No Company Inc. (Headquarters: Minato-ku, Tokyo; CEO: Shin Akiyama) conducted a survey on SNS to find out which companies are popular among students, and KabuK Style was selected as one of the "Top Companies for Students in 2021."。
Companies that mentioned "changes in work style" have seen an increase in attention.
No Company, which provides recruitment advertising (recruitment marketing) support for corporate HR departments, has conducted a survey of "the most popular companies among students on social media in 2021" and announced the results. We have released a list of 200 companies, organizations, and groups that were most talked about by students on social media (Twitter, Facebook) from July 1, 2020 to June 30, 2021.
Using the SNS analysis tool "THINK for HR" (*1), we measured the total amount of engagement (likes, retweets, shares, comments, etc.) on Facebook and Twitter for articles that appeared in the top 20 media (*2) that students refer to when job hunting. We focused on articles that mentioned the names of companies (any articles related to the relevant company) or that featured employees of the company. The numbers include both positive and negative reactions, and the higher the number, the more attention the company is receiving from students. We have listed the top 200 companies, organizations, and groups with high engagement levels in the table.
◼︎"Student-focused companies 2021″ based on SNS data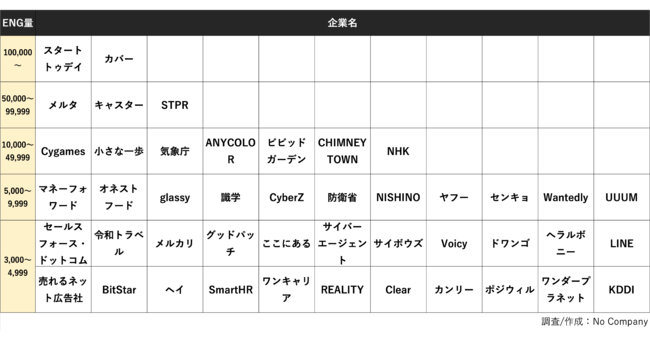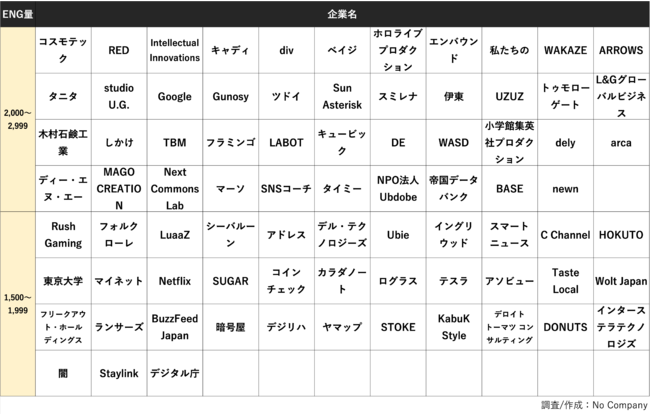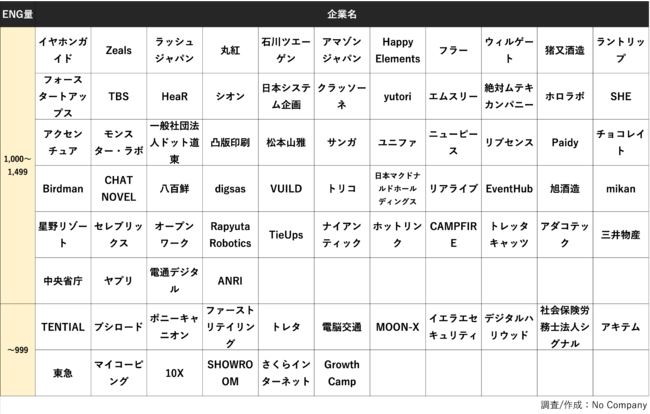 ◼︎Discussion of survey results
● Keywords that were easy to gain engagement in the past year
With the continued impact of the novel coronavirus since 2020, students have been paying attention to changes in corporate recruitment activities, and in particular, they are interested in companies that mention "changes in work style". More students are interested in knowing about how their prospective employers work, such as telecommuting, or companies that advocate for new and unique work styles. Articles that contain keywords such as "ideal," "growth," and "challenge" have garnered high engagement. It can be speculated that individual students have become more concerned about their own careers, resulting in an increased focus on whether the company's policies align with their own career vision.
● What kind of information dissemination did companies with high engagement use?
① Information diffusion through corporate/brand influencers Both Start Today and Wantedly, which announced employee recruitment through influencer content, such as a note article by Yusaku Maezawa announcing employee recruitment and the opportunity to participate in the world-building of a popular VTuber, respectively, are believed to have generated high engagement by leveraging the influence of their respective companies or brands.
② Emphasizing points of contact or unexpectedness (gap) with users' daily lives to gain momentum The Japan Meteorological Agency, which gained attention through an article on a research official who served as a weather consultant for the movie "Weathering with You," and the Ministry of Defense, which gained attention through an article about its unique hiring of mid-career professionals, both achieved high engagement. Both agencies made clear the connection between their work and everyday life (entertainment), which is unfamiliar to students. Additionally, the digital agency's engagement on note, which opened up to information dissemination, was also high. By making the work of government agencies, which was thought to be unimaginably difficult, feel familiar, the information dissemination created "unexpectedness," capturing the attention of students.
③ The six companies that have been in the spotlight for three consecutive years have strengths in creating "work images" or "aspirations" Money Forward, Mercari, CyberAgent, Cybozu, Amazon Japan, and Google have been selected among the top 200 companies for three consecutive years. Money Forward, Mercari, CyberAgent, and Cybozu have received high engagement for articles in which "employees (former employees) talk about their company's image or their own values" in multiple media outlets. At Money Forward, an article by a female employee who formed her career as a working mother and at Mercari, an article by a resigning employee expressing gratitude to the company, were particularly notable. The information dissemination that conveyed the "ease of working" and "working image" of each company resonated with students. On the other hand, Amazon Japan and Google did not share much information about their employees, and instead emphasized their company's technological innovations and social contribution activities. Despite not emphasizing employee stories, the companies have maintained their position in the top 200 companies, suggesting that there are different strategies for gaining engagement.
Also, the three companies, Mercari, CyberAgent, and Cybozu, all operate popular owned media (Mercan, FEATUReS, and Cybozu-style *not included in this survey), and have achieved high engagement. It is considered that the name recognition and likability gained here also have a positive influence on the ease of engagement of other media articles.
At No Company, we will continue to support corporate recruitment PR and recruitment activities based on insight data from job seekers obtained through SNS.
◼︎Overview of the survey
The survey examined the level of engagement of articles related to companies and their employees on Twitter and Facebook.
Data collection period: July 1, 2020, to June 30, 2021
Survey tool: "THINK for HR," an original social listening tool by Spicebox, the parent company of No Company.
Survey target: 20 media outlets listed below (※2)
Survey method: The total engagement volume for each article was calculated for each company and presented in the press release.
(※1) "THINK for HR," an SNS analysis tool An original tool provided by Spicebox, the parent company of No Company. https://www.spicebox.co.jp/services/think_for_hr/
(※2) An online survey was conducted among 428 university students in their second to fourth years who were preparing for job hunting or had already received job offers. The top 20 media outlets that they frequently used to gather information about companies and their news were selected, as follows: One Career, FastGrow, Wantedly, note, MyNavi, Rikunavi, Gaishishukatsu.com, Encourage, Career Park, University Student News Seminar, JobPicks, Career Hack, iX Career Compass, Forbes CAREER, Talentbook, Business Insider Japan, Nikkei WOMAN Career, 20's type, Woman type, and Caritas Shukatsu.