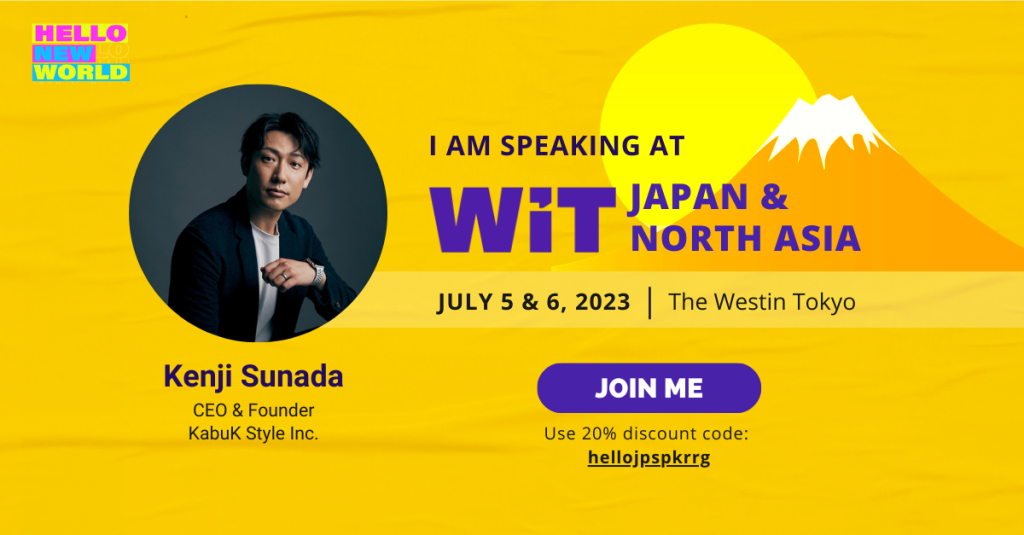 CEO Kenji Sunada will be speaking at "WiT JAPAN & NORTH ASIA".
WIT Japan & North Asia conference is a major meeting in the Asia Pacific for online travel industry leaders to discuss the future of the sector.
The conference will be held on July 5th (Wednesday) and 6th (Thursday), 2023.
■About WiT Japan and North Asia 2023
WiT Japan & North Asia was founded by co-founders Kei Shibata, Aya Aso, and Yeoh Siew Hoon of Web In Travel in 2012, the year after the earthquake, with the hope of reviving the Japanese travel market. The conference was launched in 2012, as Japan's first international conference on the theme of "Technology x Travel Tourism." The conference is a forum for active discussions on the latest trends and industry challenges, featuring speakers and panelists from major companies and venture capitalists in a wide range of travel and tourism-related fields, including domestic and international OTAs (online travel agents), travel agencies, lodging (hotels, inns, private accommodations, etc.), airlines, car rental, cabs, and railroads. The event is widely recognized as a forum for lively discussions on the latest trends and industry issues.
WiT Japan & North Asia 2023 will take another step forward in discovering inspiring new ideas in the travel industry in the Asia-Pacific region and around the world. It also provides an opportunity to learn about what is happening in the world beyond the travel industry from a different perspective.
■About the Programme
Date and Time: July 5th, 2023 (Wednesday), 2:20 PM – 2:40 PM
Programme Title: Changing Travel, KabuK Style
Listed in the Financial Times' ranking of High Growth Companies Asia Pacific 2023, this Japanese travel fintech startup, launched in 2019, is shaking things up by taking a different approach to selling travel. Think price guarantees. Think tokenization. Think subscription. Beyond the different business model, its founder has a bigger vision. Find out in this fireside chat.
Interviewer: Yeoh Siew Hoon / Founder WiT