Why not try experiencing the lifestyle of "working while traveling" by combining it with your summer vacation this year?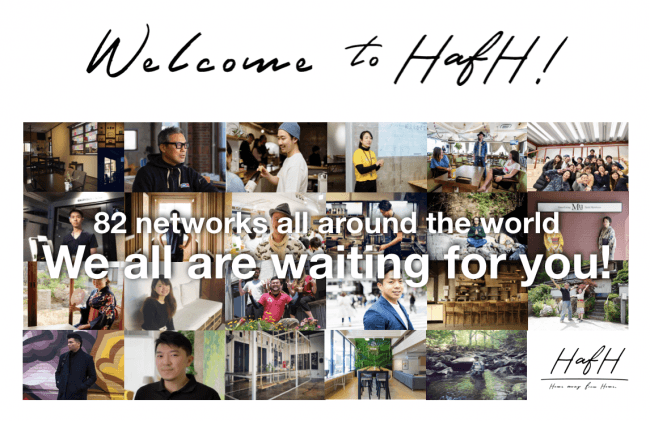 KabuK Style Inc. (Representatives: Kenji Sunada and Ryo Osera) has added 22 new locations where its subscription-based housing service "HafH" is available, bringing the total number of available locations to 82 both domestically and internationally. They plan to announce additional locations available for use next month and beyond.
The regions where HafH's new available locations are added this time are:
[Domestic] Iwate, Akita, Fukushima, Tokyo, Ishikawa, Yamanashi, Nagano, Shiga, Kyoto, Wakayama, Shimane, Fukuoka, Nagasaki
[Overseas] Thailand, Taiwan, Malaysia.
◼︎As of June 26th, 2019, all the regions where HafH's available locations are located (total of 82 locations)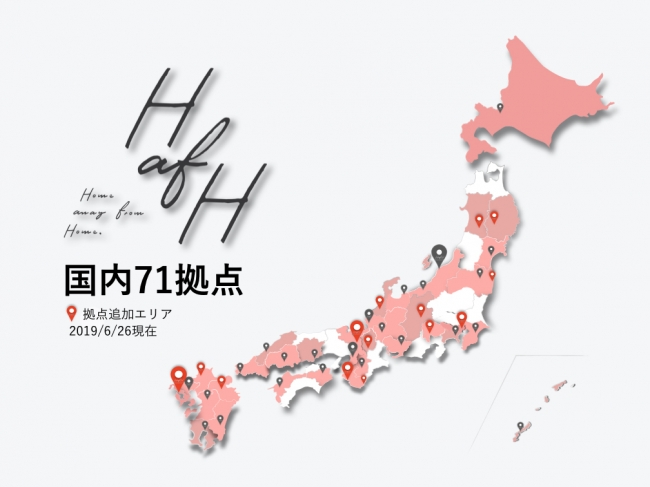 [Domestic] Hokkaido, Iwate, Akita, Miyagi, Fukushima, Chiba, Tokyo, Kanagawa, Niigata, Toyama, Ishikawa, Fukui, Yamanashi, Nagano, Gifu, Aichi, Shiga, Osaka, Kyoto, Nara, Wakayama, Yamaguchi, Okayama, Hiroshima, Shimane, Tokushima, Ehime, Fukuoka, Saga, Nagasaki, Kumamoto, Oita, Miyazaki, Okinawa
[Overseas] Thailand, Taiwan, Malaysia, Vietnam, Philippines, Kenya, Greece
◼︎Escape the heat and head to Tohoku! A new base has been added to the HafH network in the Tohoku region, which was previously a blank area on the map.
Hostel&Bar CAMOSIBA (Yokote, Akita): This "fermentation bar and guesthouse" is located in Yokote City, Akita, known as a city of storehouses. The storehouse area serves as a bar where the friendly owner, who comes from a family of koji makers with a century-long history, serves up fermented dishes along with local sake and international beer. The renovated main building features guest rooms with a traditional Japanese interior that appeals especially to international guests. Conveniently located just a 2-minute walk from the nearest Jumonji Station, this spot is highly recommended as a base for exploring Akita.
LODGE TANDEM (Hachimantai, Iwate): This cottage is situated in the great outdoors of the Appi Kogen plateau. The lounge, filled with the owner's DIY touches down to the smallest detail, offers a perfect place to work while listening to the nearby flowing river. The adjacent Tandem Adventure Field offers year-round natural activities, including snowshoeing in winter and buggy driving from 2019. Enjoy the great outdoors to your heart's content.
Appi Rocky Inn (Appi, Iwate): This "workable beer bar" offers craft beer and BBQ. The spacious lounge is equipped with a beer tap and can be used as a workspace with campfire tables and counter seats. After work, enjoy BBQ on the terrace while gazing at Mt. Iwate. Music live performances are held here, and nearby activities such as skiing and hot springs are also available for your enjoyment.
Kodaka Pioneer Village (Minamisoma, Fukushima): This co-living facility, "the closest to the Fukushima Daiichi Nuclear Power Plant," opened in 2019. Experience a "live-in" environment with a work-life balance while feeling the traces of recovery from the earthquake disaster. Enjoy various activities such as horseback riding and surfing.
◼︎"Live while traveling in Kyushu." The Kyushu area, which is convenient for both tourism and living, is further strengthening its bases!
Shimayadogoen (Nagasaki: Ojika) This lodging facility is a combination of a traditional Japanese inn and a guesthouse, where you can meet the friendly owner, his family, and various travelers with warm smiles like the sun. Located on the Ojika Island in Nagasaki prefecture, it is a paradise with breathtaking views as if they were cut out from a photograph, with the blue sky and the vast sea. You can enjoy various activities such as guided tours to see the World Heritage sites, cultural exchanges, and heartwarming hospitality that will undoubtedly bring about many wonderful connections.
Guesthouse LAMP Iki (Nagasaki: Iki) This stylish guesthouse is a renovated traditional inn that is over 100 years old. It is located on Iki Island, known as the Island of the Gods, surrounded by a perfect starry sky and beautiful sea. You can enjoy visiting power spots and various marine sports. At the adjacent restaurant, you can fully enjoy the fresh and delicious local cuisine!
Yukinoura Guesthouse Moritaya (Nagasaki: Saikai) This guesthouse, loved by both travelers and the local community, is surrounded by peaceful nature. Forget about your busy days and let the warm hospitality of this homey guesthouse heal you. Nearby, there is a spot to see the magnificent sunset, making it a recommended place for cyclists and bikers who love nature.
Asobigokoro Dazaifu (Dazaifu, Fukuoka): Located closest to the famous Sakamoto Hachimangu Shrine, where the "Ume no Hana" poem from the ancient "Manyoshu" poetry anthology that gave rise to the name of the Reiwa era was composed. We welcome you with a warm and homely atmosphere.
Guesthouse LAMP Bungo-Ohno (Bungo-Ohno, Oita): This guesthouse is situated in the mountains of a UNESCO-designated park, having been renovated from a former school. It can be used as a lodge for mountain climbers, and camping is also available. After breathing in the fresh air and working up an appetite, we invite you to savor the local game cuisine.
◼︎3 more locations have been added in Wakayama, which has been a popular destination for "workation"! Experience "working while traveling" in the Kansai area!
Guest Living Mu-Nanki Shirahama (Wakayama: Shirahama) A former resort-type hostel where you can work while enjoying a view of the sea in the popular Wakayama prefecture, Nanki Shirahama area. Enjoy unlimited natural hot springs in the large public bath! Also, have fun with deep night activities♪
the CUE – hoso back yard house – (Wakayama: Tanabe) A private room type guesthouse renovated from an old traditional Japanese house. You can enjoy interacting with foreign guests who hike the Kumano Kodo trail. A friendly local bar is also attached. Their authentic wild game burgers are highly recommended!
Why Kumano Hostel & Cafe Bar (Wakayama: Nachikatsuura) A dormitory-type guesthouse that opened in 2019. The owner, "Gorochan," who knows the area inside out, serves delicious coffee to guests. Ask them anything and enjoy the charm of Wakayama to the fullest!
SaiKaAn (Kyoto: Maizuru) A guesthouse renovated from a 130-year-old historical building located in the Nishi-Maizuru area, where the atmosphere of the former castle town remains. Enjoy staying in a nostalgic space from the Meiji era.
CALENDAR HOTEL (Shiga: Otsu) Located just 2 stations and 9 minutes away from Kyoto Station, with direct access to JR Otsu Station, this capsule hotel offers a spacious and relaxing capsule bed. The restaurant and bar on the premises are open until 4 am. Please use it as a base for your business or sightseeing in Kyoto, Shiga, and the Kansai area.
◼︎Access from Tokyo is also important! The expansion of unique bases in the Kanto region with good access by train or car is also important!
Guesthouse LAMP Nojiri-ko (Nagano: Shinano-cho Nojiri) This is a wonderful guesthouse where you can enjoy delicious meals using local ingredients from Nagano and a real Finnish sauna. From spring to autumn, you can experience water activities such as SUP and kayaking on the Nojiri Lake right in front of the guesthouse. In winter, it has good access to ski resorts, so you can enjoy various activities throughout the year!
Stay and cowork at Gobanchi (Yamanashi: Nanbu-cho) "Stay and Cowork" is perfect for those who want to concentrate on work! The well-equipped coworking space also has meeting booths. When you get tired, there is a gym in the nature right in front of you. It is the best environment for traveling and working.
Emblem Stay Kanazawa (Ishikawa: Kanazawa) Only a 2-minute walk from Kanazawa's culinary center, Omicho Market. A spacious shared kitchen creates new encounters based on "deliciousness," and after enjoying the city of Kanazawa, you can end the day at the SOCIAL BAR. Why not explore a new way of traveling in a city where a new culture is born from the fusion of venerable traditions and contemporary art?
Emblem Hostel Nishiarai (Tokyo: Nishiarai) This is a "hostel connected to the world" located in Nishiarai, a downtown area of Tokyo. Various people gather here, from travelers around the world to local families. Global coincidental encounters and connections create unexpected and wonderful moments!
◼︎Make use of your summer vacation and head abroad! Experience the excitement of working in an extraordinary location, far from your usual routine.
28 Shu Xiang Hotel (Taichung, Taiwan) Located in a quiet and convenient residential area in Taichung, it only takes a 5-minute taxi ride to get to the Fengjia Night Market! Relax while surrounded by greenery at nearby parks, hotel lounges, and gardens. You can even enjoy a leisurely breakfast in your room. It's a recommended base for a relaxing trip!
Trica Hostel, Cafe & Bar (Bangkok, Thailand) A place that is a bit away from the hustle and bustle of downtown Bangkok, where local and global guests mix together. You can enjoy a hot bowl of pork soup and fried chicken to heal your travel fatigue.
Paper Plane Hostel (Kuala Lumpur, Malaysia) It is a friendly and homely guesthouse with attentive staff and cute cats. It is said that travelers who have become friends often travel together. It is located in a convenient location, just a 5-minute walk to Jalan Alor, the famous largest street food area in Malaysia.
The Brownstone Hostel and Space (Ipoh, Malaysia) Located in a very convenient location within walking distance from the center of the old town of Ipoh. The building is very clean with a stylish interior carefully selected by the owner. The staff is also friendly and will tell you about the charm of Ipoh! Includes toast and banana breakfast.