As a popular destination for relocation, a new location has been added in Goto City, Nagasaki Prefecture! In addition, resort areas around the world such as Danang in Vietnam, Kota Kinabalu in Malaysia, and Zanzibar in Tanzania have also become available for use.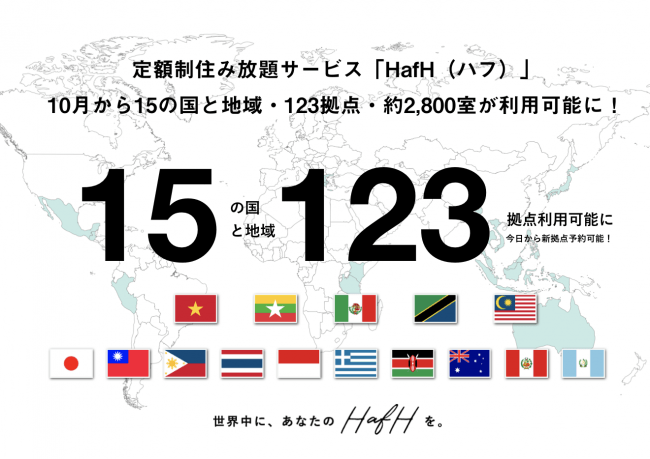 KabuK Style Inc. (Co-CEOs: Kenji Sunada and Ryo Osera) has announced the addition of new locations available for the flat-rate, all-you-can-live service "HafH" and it will be available at 123 locations in 15 countries and regions from October (reservations for new locations are available from today). They are still recruiting partnership locations both domestically and internationally.
The fixed-rate unlimited living service "HafH" encourages a "new habit" of working in which people can choose their own work location and work while traveling, even if they do not work in the same office. This enables them to obtain hints for future workstyles that cannot be obtained in the company. Currently, not only nomad workers and freelancers but also people working for companies can use it as remote work or workation. Of course, it is also perfect for tourism during the autumn outing season.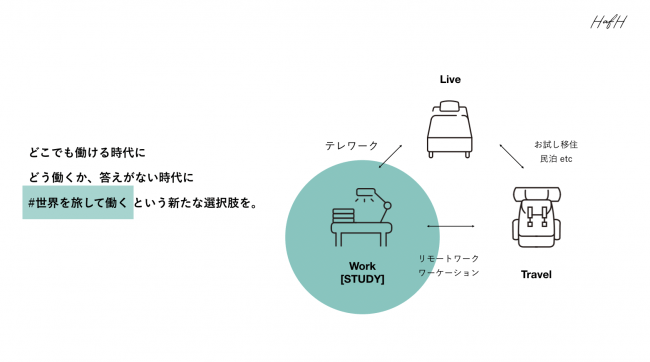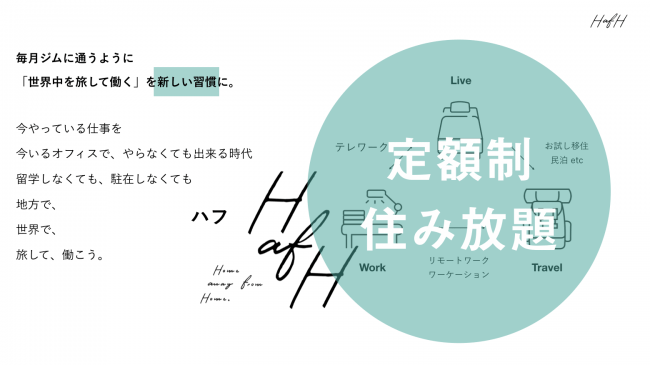 ◼︎We offer pricing plans that won't cost you more depending on the frequency of your "work and travel" habits.
As a flat-rate service, there will be no weekend surcharges. You don't need to compare prices across various booking sites. You can book without worrying about the cost, whenever and wherever you want to go. Experience this new way of booking now. (Note that if the facilities are fully booked, your reservation may not be confirmed, so please make your reservation early. Reservations can be made up to 90 days in advance.)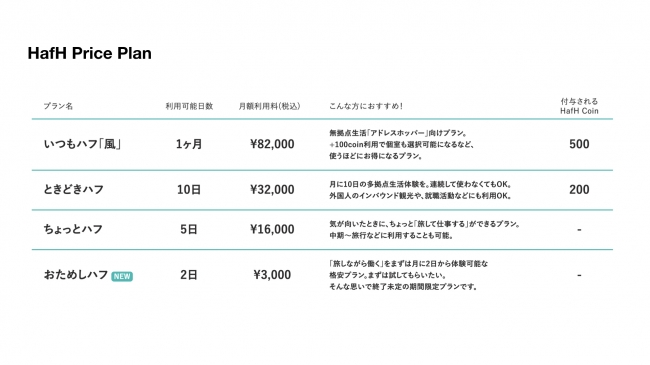 ◼︎By using HafH Coin, you can upgrade your stay and save even more!
You can use the HafH Coin that is provided every month at the regular rate to upgrade your room. Additionally, there is a bonus system for HafH Coin that can be received through long-term or frequent use. Since HafH is a flat-rate service, there are no additional fees. By making the most of HafH Coin, you can experience an even more comfortable "working while traveling" environment.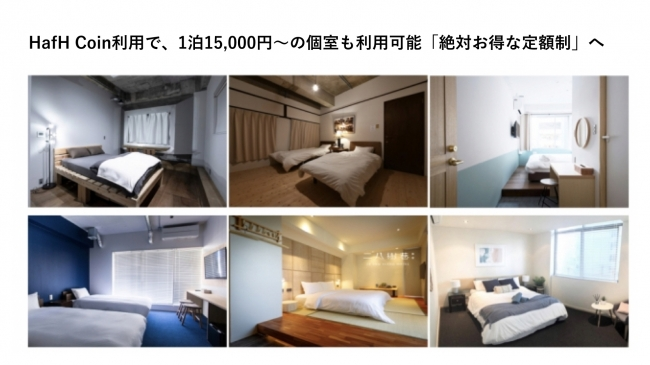 ◼︎What kind of facilities can you "work and travel" in? Not only do you want to stay, but you also want to interact with the locals and meet people in the same situation. With that in mind, we have expanded our locations primarily to include accommodations that promote social interaction.
・Equipped with power outlets and Wi-Fi ・Workspace available ・Space for exchange events/programs ・Ability to handle inbound travelers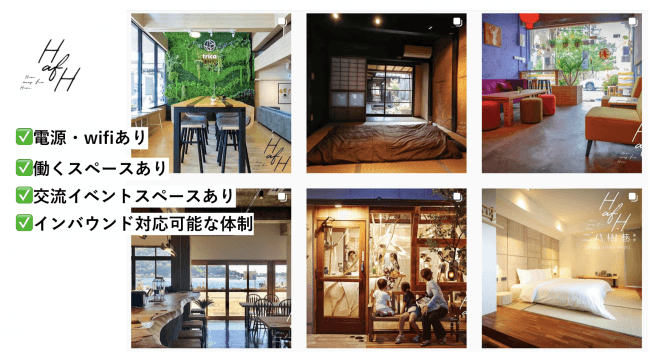 ◼︎The following regions are where new HafH locations will be added [Domestic (9 locations)] Hokkaido, Aichi, Fukuoka, Nagasaki, Kagoshima, Okinawa [Overseas (6 locations)] Vietnam, Tanzania, Mexico, Myanmar, Malaysia.
◼︎Introduction of new HafH locations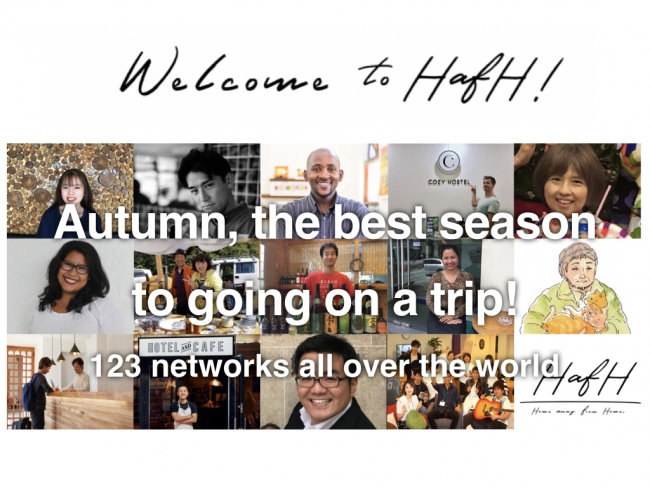 Three overseas facilities of Ten to Ten, expanding from Hokkaido to the world, have joined the HafH network! Together with FULLCOMISSION Co., Ltd., which creates "entry points" for getting involved locally around the world, we will expand the Ten to Ten × HafH network, where wind and earth naturally intersect, around the world.
Ten to Ten Danang (Vietnam: Danang),
with good access just 15 minutes from Danang airport and easy access to My Khe Beach. It offers rich activities unique to Danang, and guests can enjoy comfortable facilities and services.
Ten to Ten Stone Town Zanzibar (Tanzania: Zanzibar)
located in the center of town with good access to the beach and airport. Guests can also enjoy comfortable facilities and services.
Ten to Ten Puerto Vallarta (Mexico: Puerto Vallarta)
a guest house where travelers from all over the world meet and discover new worlds together. Guests can also enjoy comfortable facilities and services.
Furthermore, the Southeast Asian network has been expanded. HafH is now available in Myanmar, and new cities have been added in Malaysia.
Check In @Downtown Yangon (Myanmar: Yangon) Located in the heart of Chinatown in downtown Yangon, friendly staff will welcome you.
15th Street @Downtown Yangon (Myanmar: Yangon) With restaurants and shopping malls in the surrounding area, it has excellent access!
COZY HOSTEL (Malaysia: Kota Kinabalu) Warm and friendly staff will welcome you. A 10-minute walk from the waterfront, it is conveniently located within walking distance of restaurants and shopping malls. When you come to Kota Kinabalu, please consider staying with us!
As the weather gets colder, how about a long stay on a comfortable island? You can experience the great nature of Yakushima or the deep streets of Koza.
Yakushima South Village (Kagoshima: Yakushima) This guesthouse allows you to fully enjoy the nature of Yakushima. Enjoy island activities while staying for an extended period.
Arcade Resort Okinawa HOTEL&CAFE (Okinawa: Koza) Located in the heart of music town Koza, you can experience its deep charm. Perfect work environment at the affiliated Startup Lab Lagoon!
HafH's hometown Nagasaki has a new base! Nagasaki has various attractions such as Goto City, which attracts attention not only for tourism but also for workation and relocation, Hirado City, which is full of exotic atmosphere, and a base in front of Dejima, the only gateway to overseas during Japan's isolation period.
SELENDIP HOTEL GOTO (Nagasaki: Goto) This is a guest house where you can enjoy the great nature of Yakushima. Enjoy activities on the island while staying for an extended period of time.
Arcade Resort Okinawa HOTEL&CAFE (Okinawa: Kowa) Located right in the middle of the music city of Kowa, you can experience its deep charm. The perfect work environment is also available at the affiliated Startup Lab Lagoon!
Hirado Guest House KotonoHa (Nagasaki: Hirado) This guest house is located right in front of Hirado Port. The space, which is decorated with the owner's DIY work, has a lot of warmth and a playful spirit.
to be HIRADO (Nagasaki: Hirado) This renovated old house stands in a town with remnants of the Edo period. In front of the house, there are foot and arm baths where you can enjoy the charms of Hirado!
Almas Guest House (Nagasaki) This guest house offers a stunning view of Dejima, a representative tourist spot of Nagasaki. The illuminated Dejima at night is a must-see.
In addition, the network is expanding rapidly in other areas! Facilities with unique attractions, such as the upcoming national Ainu Museum in Shiraoi, Hokkaido, Yame, Fukuoka Prefecture, where you can see picturesque terraced fields, and a base in Nagoya, Aichi Prefecture, which is run by students alongside a dormitory, have joined the network.
haku hostel café & bar (Hokkaido: Shiraoi) This hostel opened in Shiraoi, a region of interest within Hokkaido, with the construction of the National Ainu Museum. The sophisticated and simple space is lovely!
Sky Tea House (Fukuoka: Yame) This is an old-fashioned farmhouse inn surrounded by scenic tea fields, as the name suggests, with traditional Kamado stoves still remaining.
Guesthouse TOHO Learning House (Aichi: Nagoya) This is a rare guesthouse attached to a student dormitory run by residents.
◼︎Regions with HafH facilities available as of September 25, 2019
[Domestic] Hokkaido, Iwate, Miyagi, Akita, Fukushima, Chiba, Tokyo, Kanagawa, Niigata, Toyama, Ishikawa, Fukui, Yamanashi, Nagano, Gifu, Shizuoka, Aichi, Shiga, Kyoto, Osaka, Hyogo, Nara, Wakayama, Tottori, Shimane, Okayama, Hiroshima, Yamaguchi, Tokushima, Ehime, Kochi, Fukuoka, Saga, Nagasaki, Kumamoto, Oita, Miyazaki, Kagoshima, Okinawa
[Overseas] Australia, Indonesia, Thailand, Taiwan, Malaysia, Vietnam, Philippines, Myanmar, Kenya, Tanzania, Greece, Peru, Guatemala, Mexico