Many regions and facilities that are perfect for the winter season, such as the popular Hida area and hot spring in Tohoku, have become available for use.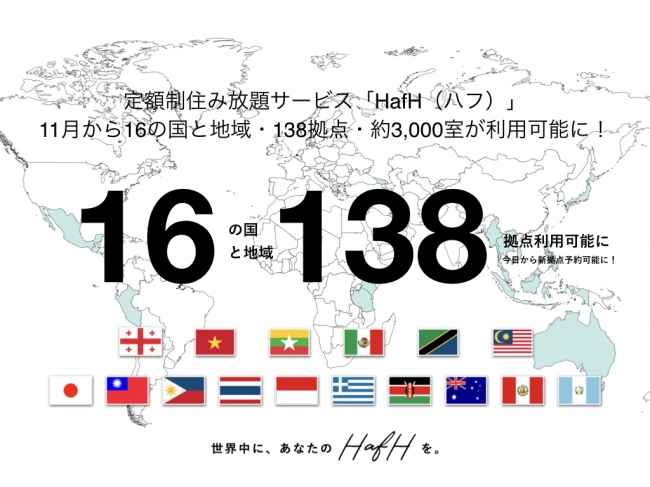 KabuK Style Inc. (Headquarters: Nagasaki Prefecture, Co-CEOs: Kenji Sunada and Ryo Osera) has announced the addition of new locations available for their flat-rate, live-in subscription service "HafH." From November, HafH will be available in 138 locations across 16 countries and regions (reservations for new locations will be available from October 24th, 2019). By the end of the fiscal year 2019, the network of facilities will be further expanded to include over 50 cities overseas.
Here are the regions where new HafH locations are being added:
【Domestic (12 locations)】Fukushima, Yamagata, Tokyo, Saitama, Gifu, Osaka, Mie, Hiroshima, Chiba
【Overseas (3 locations)】Malaysia, Georgia, Taiwan
◼︎ Introduction to each newly added location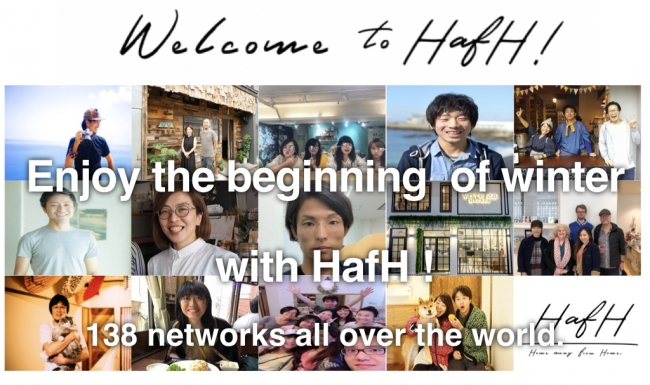 Welcome to Georgia! HafH is now available in Georgia (formerly known as Georgia). Convenient facilities in popular cities in Malaysia and Taiwan have also been expanded. Now, let's travel the world and work.
Kakashi House (Georgia: Tbilisi) Georgia was once a hub of the Silk Road, where people and cultures from Europe and Asia came and went. Experience Georgia's gentle nature of respecting and valuing others while enjoying the sharing of culture with a delicious glass of wine in hand!
Yote 28 (Malaysia: Malacca) Located in the arcade street on the shopping mall side in the center of Malacca. With cute interior design, you can enjoy a café, shared kitchen, and a playroom with TV games on the first floor.
Paper Plane Hostel (Taiwan: Kaohsiung) Located in Sanmin District, an area where night markets and street stalls are bustling. It is just a 1-minute walk from the nearest metro station, and we also offer all-you-can-drink soft drinks at the facility.
The facility on the popular Shikinejima Island is now participating! Enjoy the crystal-clear sea and island time that can't be beaten by video to your heart's content.
Hamanoya Beach House (Tokyo: Shikinejima Island) Shikinejima Island, which has recently become a topic of conversation, is a must-visit now! You can work comfortably with the cats in the large hall of the beach house. In addition to the beautiful sea, you can also go trekking!
In winter, hot springs are a must. Recommended for this season when it gets colder! A unique facility in Tohoku has joined us.
YUMORI ONSEN HOSTEL (Fukushima: Tsuchiyu Onsen) YUMORI, which is a ryokan (traditional Japanese inn) in the historic hot spring town of Tsuchiyu Onsen, is an inn where you can enjoy hot springs and want to stay long-term in a quiet mountain environment while working.
Glampic Guesthouse (Yamagata) Watch the starry sky at night and have a lovely breakfast in the morning. The stylish living room and café space are all DIY. Shiba Inu Daikichi, full of energy, is also there.
Easy to get from Tokyo! Why not stretch your legs a little this weekend and enjoy a different casual time?
Chabudai Guesthouse, Cafe&Bar (Saitama: Kawagoe) It's a shame to just do a day trip! There are many hidden charms to Kawagoe that you can only experience by staying overnight. Enjoy a wonderful time talking with locals around a chabudai (low table).
voido (Chiba: Futtsu) https://voido.space/ This is an accommodation facility created for training camps to focus on work. For freelance migrants, it's a comfortable space to work and live with like-minded people, away from the hustle and bustle of the city.
tu.ne.Hostel (Tsu ne Hostel Tateyama) (Chiba: Tateyama) This is a renovated hostel from a former clinic that was built 38 years ago. It is located in Tateyama, a city at the southern end of the Boso Peninsula, just a 10-minute walk from the coast and a 90-minute express bus ride from Tokyo.
The facility in Mie Prefecture is the first to participate in Western Japan. The facility with good access is conveniently located near the station.
Osaka Guest House Hive (Osaka: Fukushima) The bustling Umeda area in Osaka and the local drinking area of Fukushima are within walking distance. The sky garden with a great view of the night view of Osaka city and Mount Rokko is also nearby.
Roost Hostel and Restaurant (Mie: Matsuzaka) This guest house is located where the original inn, "Mino-ya", was once a regular stay for daimyo (feudal lords) and shogunate officials during their pilgrimage to Ise. The meals at the 1st floor cafe are also popular with locals for their delicious taste.
Guest House akicafe inn (Hiroshima)
It has an excellent location just a 3-minute walk from Hiroshima Station. You can relax and work 24 hours a day in the shared space on the 1st floor.
The Hida area is also popular with tourists. Please visit this area during this season, where you can enjoy the scenery unique to winter.
Cup of tea (Gifu: Takayama) The staff members here know everything about Takayama. Please enjoy the authentic way of enjoying things that you can only experience locally, and delicious food!
Hida Takayama Guest House tau (Gifu: Takayama) This cozy house is filled with warmth and is welcomed by the signboard cat, Luke. From this place where travelers can make friends, why not take a stroll around the town of Takayama?
Yamanami (Gifu: Hida Furukawa) Travelers from all over the country visit the beautiful streets of Furukawa, Hida City. Here at Yamanami, they cherish the connections that people make and provide an accommodation experience that is full of attention to detail. Please enjoy a special trip.
◼︎As of October 24, 2019, HafH is available in the following areas [Domestic] Hokkaido, Iwate, Miyagi, Akita, Fukushima, Yamagata, Saitama, Chiba, Tokyo, Kanagawa, Niigata, Toyama, Ishikawa, Fukui, Yamanashi, Nagano, Gifu, Shizuoka, Aichi, Mie, Shiga, Kyoto, Osaka, Hyogo, Nara, Wakayama, Tottori, Shimane, Okayama, Hiroshima, Yamaguchi, Tokushima, Ehime, Kochi, Fukuoka, Saga, Nagasaki, Kumamoto, Oita, Miyazaki, Kagoshima, Okinawa
[Overseas / Country Name] Australia, Indonesia, Thailand, Taiwan, Malaysia, Vietnam, Philippines, Myanmar, Kenya, Tanzania