Facilities with hot springs in Bandai Atami, Hakone Gora, and Izu Nagaoka, as well as many areas and facilities that are perfect for the winter season, are now available for use.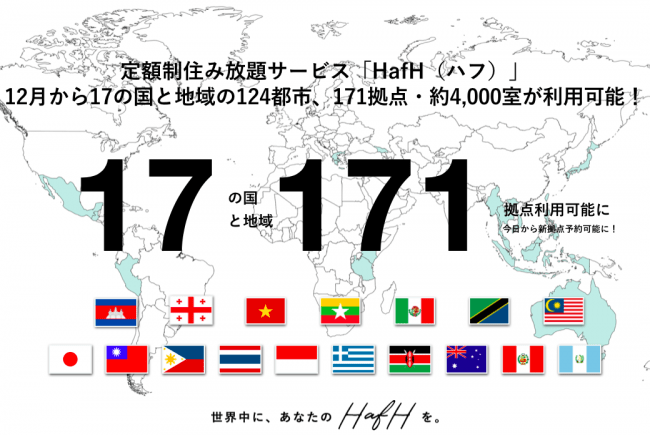 KabuK Style Inc. (Headquarters: Nagasaki Prefecture, Co-Representatives: Kenji Sunada and Ryo Osera) has added new locations that are available for its fixed-rate subscription-based living service "HafH" and will now be available in 17 countries and regions, 124 cities (91 cities in Japan and 33 cities overseas), and 171 locations starting in December (reservations for the new locations have been available since December 2, 2019). While originally aiming to have HafH partner locations in all 47 prefectures by the end of fiscal year 2019, the goal has been achieved four months ahead of schedule, allowing HafH to be used at partner locations across Japan. Additionally, KabuK Style will continue to expand its network facilities to enable the use of HafH at over 50 cities overseas by the end of fiscal year 2019.
Summary
HafH, a monthly fixed-rate accommodation service, has expanded its network to cover all 47 prefectures in Japan.
The network has also expanded globally, with eight new locations in Taiwan and a new partnership in Cambodia.
HafH has also renovated its website to improve the user experience for those who work and travel.
◼︎Stay as much as you want with a monthly flat rate!
HafH network expands to all 47 prefectures in Japan. Its worldwide locations are also increasing, with Taiwan adding 8 new locations this month, and Cambodia starting a new partnership.
HafH's available locations that have been added this time include:
[Domestic (16 additional locations)] Hokkaido, Fukushima, Aomori, Ibaraki , Tochigi, Gunma, Kanagawa, Shizuoka, Gifu, Kyoto, Kagawa, Hiroshima, Nagasaki
[Overseas (17 additional locations)] Taiwan, Thailand, Indonesia, Philippines, Cambodia
Since December, Aomori Prefecture, Tochigi Prefecture, Gunma Prefecture, Ibaraki Prefecture, and Kagawa Prefecture have been added, and HafH's network has finally expanded to all 47 prefectures in Japan.
By subscribing to the monthly flat-rate accommodation service "HafH," you can stay at 171 locations at a fixed rate, including the 33 new locations added this month, covering 17 countries and regions both domestically and internationally, in 124 cities (91 cities in Japan and 33 cities overseas). All locations have a work environment with power outlets and Wi-Fi, and of course, a bed.
Weekend migration and the upcoming cold season are perfect opportunities to work in a different environment with peace of mind, such as hot springs and southern islands.
◼︎Facility Introduction Yukori: Bandai Atami Onsen (Fukushima)
The natural hot springs will heal your mind and body. Please feel the relaxed flow of time.
Konastay Izu Nagano: Kona Onsen (Shizuoka: Izu)
A luxurious guesthouse with hot springs renovated from a traditional Japanese inn. They also have a good selection of rental bikes and allow guests to bring their own bikes, making it a recommended spot for cyclists.
EMBLEM FLOW: Gora Onsen (Kanagawa: Hakone)
Enjoy the hot springs, nature, and meeting new people in a chill space away from the hustle and bustle of the popular Gora area.
2.Expansion of Global HafH Network – 8 new locations in Taiwan and new partnership in Cambodia!
The HafH network is expanding globally, with 8 new locations in Taiwan, 4 in Thailand, 2 in Indonesia, 2 in the Philippines, and a new partnership in Cambodia, all available for use since December.
Facility Introductions:
Thinking B&B (Tainan, Taiwan)
Offering warm hospitality in a traditional Taiwanese B&B, guests can experience the unique atmosphere of a historic building. This is sure to be a perfect trip.
Skylar by Meridian (Phnom Penh, Cambodia)
Providing modern and sophisticated spaces suitable for both long and short stays, guests can relax comfortably in shared spaces and a gym.
Villa Dhitaree (Koh Samui, Thailand)
Spend a relaxing day by the poolside. There are various attractions within walking distance, such as the beach, Chinatown, a crocodile farm, and seafood restaurants.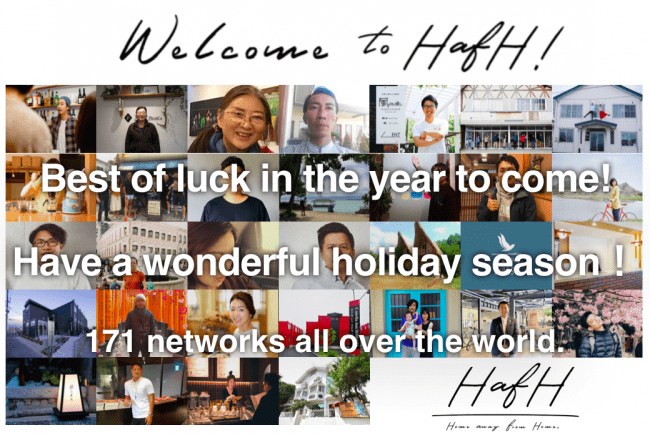 ◼︎Website Renewal
Travel and Work around the World with More Comfort Our website has been renewed to provide a more comfortable user experience. In addition to the traditional search by "location," you can now choose facilities according to your "mood" or "purpose." There are various conditions such as wanting to spend time with a large group, wanting to spend time alone, near the sea, near the mountains, and more, so please try staying at a facility you have not used before.
Visit HafH at https://hafh.com/
check out our facility search page at https://hafh.com/search.