The seed round was completed with the 1 billion yen in funding. In the second year, the company plans to accelerate web service development, expand global locations, and develop MaaS for transportation.
KabuK Style Inc. (Representative Directors: Kenji Sunada and Ryosuke Osera) has announced the completion of a seed funding round, raising a total of 1 billion yen from investors including JR West Innovation Ventures Co., Ltd., the CVC arm of West Japan Railway Company, and NEC Capital Solutions Ltd. (President: Tomoo Imagose), as well as funds operated by TATERU Inc. (CEO: Taizan Furukawa) and DOGAN Inc. (President: Daisuke Mori). The funds will be used to further develop HafH, a subscription-based co-living service.
Since its launch in April 2019, HafH has expanded its reach to 158 cities in 18 countries and regions, offering its users the ability to stay at hotels and other facilities on a monthly subscription basis.
As society continues to diversify, with trends such as the acceptance of side jobs and telecommuting, there is a growing need for environments that allow individuals to choose diverse work styles that suit their needs, whether as employees or as individual business owners. KabuK Style's mission is to contribute to the creation of an infrastructure that accommodates diverse values and promotes a society that accepts diversity.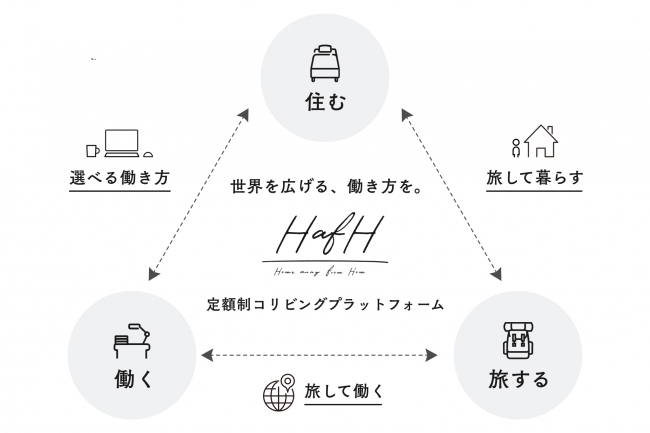 HafH is a service that integrates living, working, and traveling into one, defining "living" as living in HafH's infrastructure. In traditional systems, it is difficult to live in a state where it is easy to move, as moving incurs both monetary and time costs, as well as travel costs. HafH is challenging to express the state of having a residence all over the world by developing and operating places where people can feel at home and networking hotels and inns that share the same philosophy. In addition, by establishing a system to rationalize transportation costs, it is possible to stabilize income for transportation companies and costs for users. With the context of transportation, which connects places with lines, HafH will continue to develop as a service for living infrastructure.
The purpose of fundraising is to develop MaaS that connects "living," "working," and "traveling."
****In the future, we plan to develop HafH as a service that provides a stable cost of living, including transportation, while providing safe and secure bases to stay all over the world. We are collaborating with various companies to develop services that make various convenient social services available anywhere.
Currently, HafH's web application has a reservation system for determining a place to stay, but we will develop it as a service that includes MaaS in the future.
The funds raised will primarily be used to develop web services that make it more convenient to "stay in any place, at any time, around the world" and to expand the available bases to 500 cities around the world by the end of March 2021.
◼︎KabuK Style CEO Kenji Sunada's comment
One year after the service started HafH, a flat-rate living service, is about to celebrate its first year since its launch in April 2019. HafH started with the aim of providing a home away from home, a second home, a place to live all over the world, and has gained many partners who sympathize with its vision. The number of available bases has increased from 0 to 236 facilities in 158 cities and 18 countries in one year.
One year ago, words like "co-living" and "workation" were not yet well known, but recently, they seem to be gaining popularity. Among the HafH members, called "neighbors," there are people with jobs we never imagined and people who use HafH in ways that teach us something new.
◼︎As of March 25th, 2020, the regions where HafH can be used are
Domestic: All 47 prefectures in Japan International: Australia, Indonesia, Thailand, Taiwan, Malaysia, Vietnam, Philippines, Myanmar, Kenya, Tanzania, Greece, Peru, Guatemala, Mexico, Georgia, Cambodia, and the United States of America.