The consortium is made up of five companies: KabuK Style Inc. , NEC Networks & System Integration Corporation, ii Office Inc. Pasona Job Hub Inc. and Lancers Inc.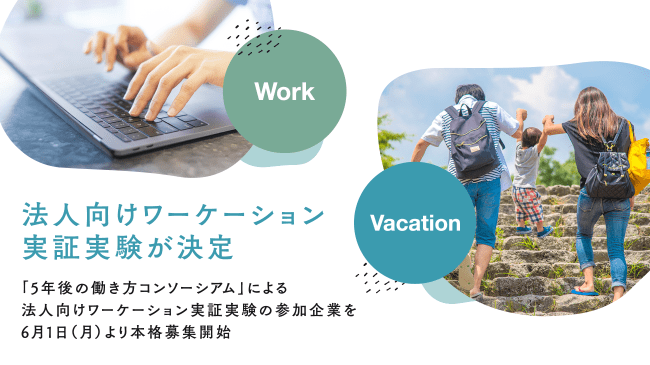 "KabuK Style Inc. (Representative Director: Kenji Sunada / Ryo Osera) as the secretariat of the "5-Year Future Work Consortium" will conduct a "comprehensive solution service verification experiment on telework for corporations" that includes "experiencing the way of working five years from now, including workation". Starting from June 1, 2020 (Monday), they will begin full-scale recruitment of participating companies.
With the proliferation of telework due to the COVID-19 pandemic, there is growing interest in the potential of "workation," where one can work from their vacation destination. Through this verification experiment, the consortium will consider new ways of working, such as telework, multiple residences, and side jobs, beyond the COVID-19 pandemic, together with participating companies.
In addition, prior to the start of the verification experiment, an event will be held three times from June 11, 2020 (Thursday) to consider "the way of working five years from now."
The "Future Work Style Consortium 5 Years Later" was established in January 2020 by KabuK Style Co., Ltd., NEC Networks & System Integration Corporation (Headquarters: Bunkyo-ku, Tokyo; President and CEO: Yuji Ushijima), Ii Office Co., Ltd. (Headquarters: Taito-ku, Tokyo; Representative Director: Hiroshi Ryuzaki), Pasona Job Hub Co., Ltd. (Headquarters: Chiyoda-ku, Tokyo; President and CEO: Koichi Morimoto), and Lancers Inc. (Headquarters: Shibuya-ku, Tokyo; President and CEO: Yosuke Akimoto), to support a society where diverse work-styles can be selected, and to promote the utilization of human resources that match diverse work-styles, by comprehensively examining and providing an environment and system that support "workplace," "stay place," and "work."
The current verification experiment aims to create an environment where individuals belonging to companies can challenge various work-styles, including telework that is not limited to working from home, by collaborating and expanding the services of the five companies from the perspectives of "company management tools for online meetings and other purposes," "places where you can work anywhere, such as co-working spaces," and "fulfilling work, including the possibility of side jobs in regional areas." The five companies, which have been at the forefront of telework since before the spread of the coronavirus, will comprehensively support the establishment of telework environments and are expected to become a trigger for the next way of living, such as multiple-location living and trial relocations.
The details of the demonstration experiment are as follows:
Starting time: From August 2020 onwards (scheduled) Contract period: At least 6 months Service scale: Approximately 10 companies, with participation of 10 or more departments or teams from each company expected Services provided:
Each company's services and support can be used collectively at a fixed monthly basic fee (demonstration experiment price).
Monthly reporting on usage status and consulting as needed will be provided.
Participation in "Work-style Experience in 5 Years" that provides a workation experience is included in the basic fee.
Optional services such as arranging transportation for tours and planning special tours tailored to each company's needs are also available.
Discussions regarding each company's services and support are possible based on the company's telework adoption status.
Recruitment start date: From June 1, 2020 (Mon) Application URL: https://forms.gle/Yr1tQNHVtxq4ffdeA
◼︎Cooperation for the Demonstration Experiment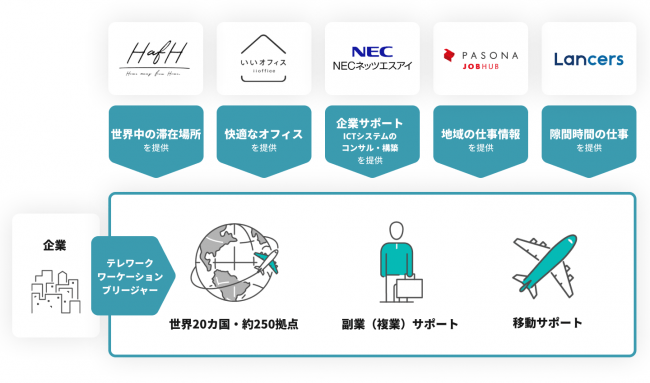 KabuK Style Inc. Provides a place to stay with the HafH (Half) fixed-rate co-living service, which can be used in over 160 cities in 20 countries and regions worldwide. We provide a place to stay while working in the places you visit.
NEC Networks & System Integration Corporation We provide one Zoom account per person with support. We provide comprehensive support from system administrators to employees using the service regarding usage and any questions they may have.
iiOffice Inc. We provide unlimited access to shared offices available at 80 locations nationwide, including 60 locations in the Kanto region centering on Tokyo, to provide a place to work.
Pasona Job Hub Inc. When staying in a local area for business trips or other purposes, we support introducing job opportunities at local companies and provide opportunities for connections with the local community and skill-building.
Lancers, Inc. We provide seminars on the necessary information for realizing flexible work styles, such as how to file a tax return with multiple sources of income.
"Work-style experience five years from now" image In this demonstration experiment, we will plan various workation experiences as "work-style experiences five years from now". We aim to support the essential construction of teleworking systems and provide opportunities to experience teleworking in its original sense, which is not limited to working from home. We aim to accept various work styles for individuals with diverse values and in various situations within the company.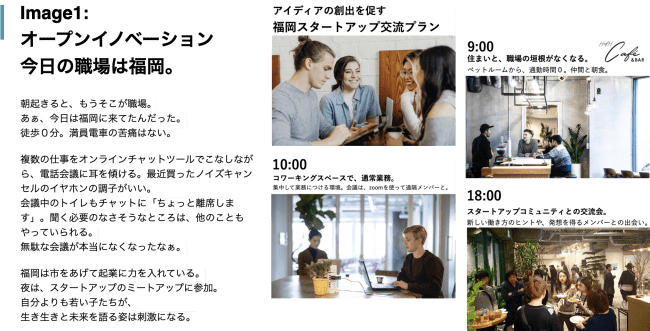 ◼︎Background of the Demonstration Experiment
In the past, "work-style reforms" in companies have focused on optimizing working hours, such as setting a limit on overtime hours and mandating the use of paid leave. Currently, there is a demand for a diverse range of working locations and hours, such as the social acceptance of side jobs and the introduction of telework. It is necessary to provide individuals with a variety of working options and environments that are suitable for them, such as excellent personnel working as freelancers or for large companies.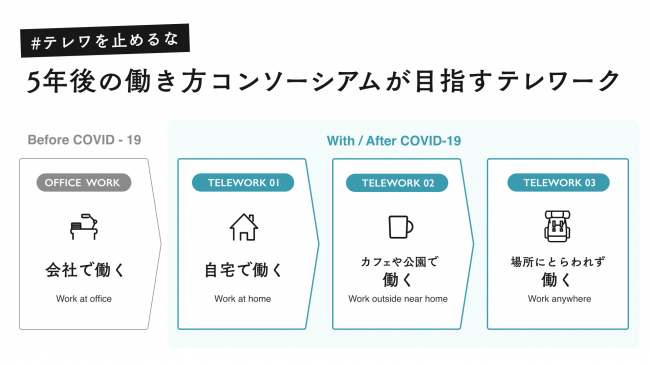 The spread of the novel coronavirus has rapidly popularized telework, but there are concerns that it will remain only as a temporary trend that includes only working from home. In a "worker consciousness survey" conducted in May of this year, over 60% of respondents expressed a positive desire to continue teleworking even after the end of the COVID-19 pandemic. Additionally, nearly 60% of respondents reported satisfaction with telework, highlighting the urgent need to improve the environment in which telework can be continued comfortably based on this trial.
Source: Japan Productivity Center "First Worker Consciousness Survey" (https://www.jpc-net.jp/research/assets/pdf/5f4748ac202c5f1d5086b0a8c85dec2b.pdf)
In order to transition work-style reforms to the next phase in Japan and provide society with a realistic vision of the "work-style in 5 years," this demonstration experiment will work together with participating companies to explore new work styles beyond the COVID-19 pandemic.
Recommended for the following companies:
Companies that want to further promote telework/work-style reforms to maximize employee performance
Companies that want to promote employee skill development through side jobs (multiple jobs)
Companies that want comprehensive advice on telework or workation
◼︎What is the "Consortium for Work-style in 5 Years"?
The "Consortium for Work-style in 5 Years" was established in January 2020 by five companies with the aim of supporting a society in which a diverse range of work styles and environments are possible, by integrating and examining "workplace," "stay place," "work," and the environment and systems that support them.
For more details, please refer to the press release announcing the establishment: "Consortium for Work-style in 5 Years" established by five companies to promote and accelerate the next generation of diverse work-style.
Event to Consider Working Styles in 5 Years Prior to starting the proof-of-concept experiment, an event to consider various aspects of working styles in 5 years will be held in June. Due to the COVID-19 pandemic, some companies had to implement telework and work from home, and some may have encountered both positive and negative aspects of these changes.
Together with members of the "Work Style Consortium in 5 Years," we will delve into three perspectives on "What to do about the workplace," "How will working styles change," and "What should we actually do in our own companies?" after COVID-19.
Event Details: Part 1: June 11 (Thu) "The Future of Expanding Workplaces"
Date/Time: June 11 (Thu) 20:00-21:00 Location: Online (URL will be sent to registered participants)
Topics:
How did many companies do with teleworking?
Is the office necessary?
What is the productivity when working in a non-office environment?
Speakers:
Ryo Osera, CEO of KabuK Style (Facilitator)
Hiroshi Ryuzaki, CEO of ii Office Inc.
Ryoko Tanaka, Promotion Section Chief in the New Business Development Department at NEC Networks & System Integration Corporation
Kazuko Tateno, HafH Travel Business Manager at KabuK Style
Part 2: June 18 (Thu) – June 19 (Fri) "Telework Experience in Karuizawa, for Company Employees Only! Consider Your Work Style in 5 Years Based on Your Company Situation"
All members of the Work Style Consortium for the Next Five Years will gather to hold a telework consultation event in Karuizawa (online participation is also available). While understanding the situation of each participating company, we will discuss new work styles for each company together.
During the intervals, we will experience telework in Karuizawa. We encourage you to experience working not only from home, but also from other locations.
Regarding this event and accommodation, we will prioritize the safety of participants and staff and operate in accordance with the infection prevention guidelines of each facility. *We accept requests for the "Workation accommodation plan" at "Karuizawa Prince Hotel Cottage", where you can avoid the three Cs (closed spaces, crowded places, and close-contact settings). (Separate fee) *For event participation fees, accommodation conditions, details, and inquiries, please refer to the application URL below.
Event details: June 18 (Thu) 19:00 start, 20:30 end "Online Social Gathering" ・The participation URL will be sent to those who apply.
June 19 (Friday) "Telework Consultation for Each Company with Consortium Members" We will hold a consultation session to promote solutions for each company's work style challenges. Based on the comments received from each company regarding telework and work style reform challenges at the time of application, consortium members who have been practicing telework since before the spread of the coronavirus will provide support and search for ways to solve those challenges.
The 1:00 PM event can also be attended online.
Individual consultation sessions will also be available. If you are interested, please let us know through the form when purchasing your participation ticket.
Event lunch venue: Hanare Karuizawa 11:00 Meetup 11:30-12:30 Lunch / Introduction of Karuizawa's charm by Hanare Karuizawa staff (about Karuizawa's community and telework environment) 13:00-14:00 [Public Event] Consortium members discuss! Telework consultation for each company (online participation available) After 14:00, participants are free to leave. Please enjoy teleworking in Karuizawa at your leisure.
[data:image/svg+xml,%3csvg%20xmlns=%27http://www.w3.org/2000/svg%27%20version=%271.1%27%20width=%2730%27%20height=%2730%27/%3e](data:image/svg+xml,%3csvg%20xmlns=%27http://www.w3.org/2000/svg%27%20version=%271.1%27%20width=%2730%27%20height=%2730%27/%3e)
Part 3: "The Future of Work Styles Expands the World" on June 25 (Thursday)
Date and time: June 25 (Thursday) 8:00 PM to 9:00 PM Venue: Online (URL will be sent to registered participants)
Topics:
How was the telework experience outside of home in the second event?
How will work styles change in the future?
How will the relationship between companies and employees change?
Speakers:
Ryō Osera, CEO of KabuK Style (Facilitator)
Ryo Kato, General Manager of Business Strategy Division at Pasona Job Hub, Inc.
Yasuyuki Negishi, Director of Smart Management Promotion Office at Lancers,Inc.
Satomi Takenaka, Head of Enterprise Solution Business at KabuK Style
◼︎As of May 27, 2020, the following countries and regions had HafH available locations
Japan, Indonesia, South Korea, Cambodia, Thailand, Taiwan, Philippines, Vietnam, Malaysia, Myanmar, Australia, United States, Guatemala, Mexico, Peru, Greece, Georgia, Spain, Kenya, and Tanzania.