You can also have a workation experience and interact with representatives from leading companies and municipalities in the field of workation. Applications are now open for the on-site event, which is limited to 50 participants, and online participation is also available.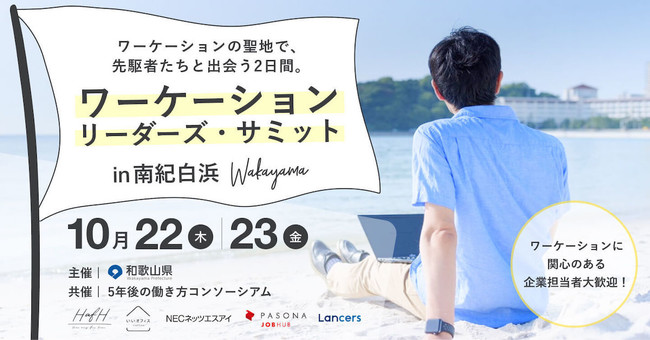 KabuK Style Inc. (Representative Director: Kenji Sunada/Ryo Osera), the secretariat of the "Working Style Consortium 5 Years from Now," will co-host the "Working Vacation Leaders Summit – Exploring the Potential of New Work Styles" with Wakayama Prefecture on October 22 (Thu) and 23 (Fri) in Minami Boso, Wakayama. Participants can experience working vacations while attending lectures, panel discussions, networking events, and workshops.
At this event, panel discussions will be held on the implementation of working vacations by advanced companies, system design, fostering of corporate culture, and challenges. In addition, there will be a working vacation networking event between companies and municipalities.
The "Work Style Consortium for 5 Years Ahead" was launched in January 2020 with the aim of supporting a society where people can choose a diverse range of work styles and utilize human resources accordingly. The consortium, comprised of KabuK Style Inc., NEC Networks & System Integration Corporation (Headquarters: Bunkyo-ku, Tokyo; President and CEO: Yuki Ushijima), Ii Office Inc. (Headquarters: Taito-ku, Tokyo; President: Hiroshi Ryuzaki), Pasona Job Hub Inc. (Headquarters: Chiyoda-ku, Tokyo; President and CEO: Motoyoshi Takagi), and Lancers Inc. (Headquarters: Shibuya-ku, Tokyo; President and CEO: Yosuke Akiyoshi), is working to comprehensively examine and provide solutions for "workplace," "stay place," and "work," as well as the environment and systems that support them, in anticipation of a future where working locations and hours become more diversified. For more information, please refer to the press release below:
https://prtimes.jp/main/html/rd/p/000000031.000039388.html
◼︎Features of the "Workation Leaders Summit"
A 1-night, 2-day workation experience in Shirahama, a holy land of workation Shirahama, which receives approximately 3.4 million visitors per year, is famous as a resort area in Wakayama Prefecture. There is the only airport in Wakayama Prefecture, Nanki-Shirahama Airport, in Shirahama Town, which is connected to Haneda Airport with three round-trip flights per day and can be reached from Tokyo in about 60 minutes. This beach, which is easily accessible from the Kansai area in about 2 hours by express train from Shin-Osaka Station, is renowned as a scenic beach. Therefore, Shirahama is one of the regions that actively promotes workation businesses. In recent years, it has also been promoting the invitation of ICT companies, and many companies have opened satellite offices, leading to an increase in activity in the area.
Workation advanced companies such as Japan Airlines, Mitsubishi Estate, and Unilever Japan will speak At the panel discussion of the "Workation Leaders Summit," companies that have been working on workation in an advanced manner even before the spread of COVID-19 will speak about examples, effects, and challenges.
Workation exchange meetings between companies and local governments There are still various social issues in the regions. Directly touching upon these issues can lead to opportunities for new businesses, and exchanging ideas can lead to the development of rich human resources. Additionally, deepening the commitment to social issues can also contribute to companies' efforts toward achieving SDGs.
◼︎Please participate if you are
HR personnel or managers in a company
Business development personnel or managers in a company
Individuals who are considering and promoting the institutionalization of new ways of working in companies
Individuals who are practicing and considering the next step of working using telework or workations.
◼︎Event Overview Organizer: Wakayama Prefecture Co-organizer: Workstyle Consortium 5 years from now Sponsor: Mitsubishi Estate Co., Ltd. * Additional sponsors may be added in the future. Supporting organizations: Japan Telework Association, Japan Workation Association, Freelance Association
Application for additional support is currently under consideration from: Ministry of the Environment, Japan Tourism Agency, Ministry of Economy, Trade and Industry, Ministry of Internal Affairs and Communications, Cabinet Office, Workation Autonomous Community Council (in alphabetical order).
Date and time: October 22 (Thu) -23 (Fri), 2020 Extension of stay is possible upon request.
Venue: SHIRAHAMA KEY TERRACE HOTEL SEAMORE and online
Application URL: https://wls1022.peatix.com
Capacity: 50 on-site participants/ 200 online participants
Participation fee: 1,000 yen for on-site participants/2,000 yen for online participants *Transportation and accommodation costs for on-site participants are at their own expense. *Transportation arrangements can be made separately by the organizers. For details, please check Peatix.
Schedule: *The schedule is currently under consideration and subject to change.
<October 22 (Thursday)> Part 1: Simultaneous Offline and Online Event 13:00-13:15 (15 min) Summit Opening Declaration: Governor of Wakayama Prefecture, Yoshinobu Nisaka 13:15-13:25 (10 min) Introduction of the Workstyle Consortium in 5 years 13:30-13:40 (10 min) Lecture on Workations: Speaker to be confirmed 13:50-14:40 (50 min) Panel Discussion 1: Workation Case Studies in Wakayama <Scheduled speakers> Facilitator: Ryo Osera, CEO of KabuK Style Shokyo Higashihara, Assistant Manager of Workstyle Transformation Promotion Group, Human Capital Strategy Department, Human Capital Headquarters, Japan Airlines Co., Ltd. Keisuke Tamaki, Sales Planning Department, Senior Manager, Mitsubishi Estate Co., Ltd. Ryota Morishige, Director of Inviting and Regional Revitalization Division, Nanki Shirahama Airport,Inc.
14:55-15:45 (50 min) Panel Discussion 2: Examples of Policy Design in Advanced Companies that Introduce Workations <Scheduled speakers> Facilitator: Ryo Kato, Director of Social Innovation Department and Business Development Department, Pasona Job Hub Inc. Yuka Shimada, Executive Officer, Director of Human Resources and General Affairs, Unilever Japan Holdings Co., Ltd.. Katsunori Koike, Regional Creation Promotion Division, LivingAnywhere Commons Business Manager, LIFULL Co., Ltd. Others to be confirmed
16:00-16:50 (50 min) Panel Discussion 3: Creation and Challenges of Culture for Implementing Workations <Scheduled speakers> Facilitator: Yasuyuki Negishi, Smart Management Promotion Department, CEO's Office, Lancers,Inc. Makoto Okuno, Director of GMO Pepabo, Inc. Hiroto Ijima, Executive Officer, Head of HR General Affairs Division, GMO Pepabo, Inc. Others to be confirmed
Part 2: Offline Only 16:50-18:00 (70 min) Telework Time 18:00-19:30 (90 min) Reception
Part 3: Simultaneous Offline and Online Event 20:00-21:00 (60 min) Supporting the Future of the Next-door Town of Workation's Holy Land, Tanabe City
<October 23 (Friday)> Part 4: Offline Only Morning: Optional Activities or Telework Activity Examples: Exploring the Local Area, Morning Yoga 12:00-13:00 Lunch Break
Part 5: Simultaneous Offline and Online Event 13:00-15:00 (120 min) Corporate and Regional Collaborative Workation Matching 15:00- Closing Remarks: Kiyohito Hayashi, Planning Section Counselor, Wakayama Prefecture
The event content, speakers, and schedule are subject to change without notice. *During the event, you can telework at your convenience throughout the day.
◼︎Background for holding the event
Due to the prevention of the spread of the novel coronavirus (COVID-19), the common sense of working has changed dramatically. Rapid digital transformation (DX) has occurred, such as remote work and digitization of documents, which was previously unthinkable.
"Workation" is a coined word that combines "work" and "vacation," referring to working in a pleasant environment such as a resort. It became a topic of conversation when Chief Cabinet Secretary Suga expressed his intention to promote workation in July.
However, the Work Style Consortium for 5 Years Later believes that workation is not just about changing the work environment and scenery by working in a travel destination. It is also expected to improve individuals' work-life balance, create new business ideas, and foster talent. By changing how time is used, the location, and the people you meet, the following "5 effects" can be expected.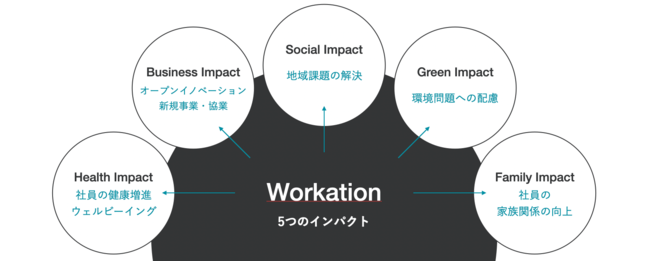 ① Health impact (Promoting Health Management) Through working in a relaxed state of mind and body during a workation, we aim to achieve a healthier management style.
② Social impact (Contributing to the Community, Solving Social Issues) By conducting workations in areas affected by the economic impact of the COVID-19 pandemic, such as the tourism industry, or in regions suffering from depopulation, we can contribute to the community and help solve social issues.
③ Economic impact (Generating Economic Benefits) By conducting workations in regions with no economic margin due to population decline, we can create economic benefits for the region.
④ Environmental impact (Preserving Natural Environment) Conducting workations in areas with rich natural environments can help foster a sense of appreciation for nature.
⑤ Family impact (Improving Family Relationships) Creating vacation opportunities in tourist destinations before or after work through workations can improve family relationships even during busy work periods.
By participating in our 1-night, 2-day workation experience, you can learn and experience these five effects, while also considering the future of workations together. We hope that companies considering how to utilize new working styles in the New Normal era will participate in this event and apply the learnings and experiences to their policy design.
◼︎As of August 26, 2020, HafH has available locations in the following countries and regions
Japan, Indonesia, South Korea, Cambodia, Singapore, Thailand, Taiwan, Philippines, Brunei, Vietnam, Hong Kong, Malaysia, Myanmar, Laos, Australia, the United States, Ecuador, Guatemala, Mexico, Peru, Greece, Georgia, Spain, Kenya, and Tanzani