In addition to Hakata, Hiroshima, Shin-Osaka, and Shirahama (Wakayama), the discount will now be available on a total of 16 routes (13 shinkansen routes and 3 limited express routes), including Kanazawa, Fukui, Shin-Shimonoseki, and Okayama.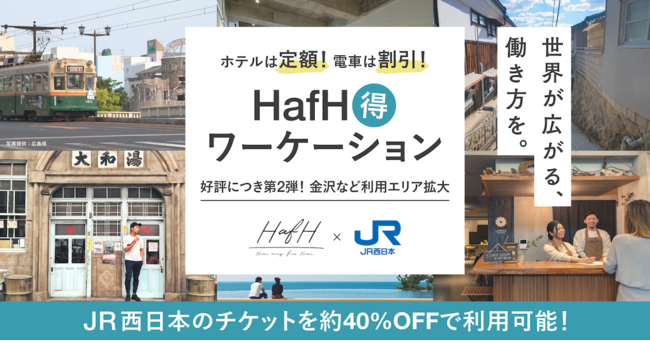 KabuK Style Inc. (Co-CEOs: Kenji Sunada and Ryo Osera) has been offering the "HafH (Home away from Home)" platform since April 2019, which aims to provide a monthly subscription service for staying anywhere in the world. As of the end of February 2021, it is possible to stay at 630 locations in 423 cities in 36 countries and regions for a fixed monthly fee.
Now, KabuK Style will conduct the second round of a verification experiment with West Japan Railway Company (Representative Director and President: Kazuaki Hasegawa, hereinafter referred to as "JR West") and JR West Innovations, Inc. (Representative Director and President: Hiroshi Wada), which has corporate venture capital functions. The purpose of this experiment is to expand the target population market, promote mobility, revitalize the region, and create new communities.
This is the second verification experiment following the "JR West x Housing Subscription Service" conducted from September to November 2020, which began recruiting participants in July of the same year.
Through this verification experiment, KabuK Style aims to accumulate and verify data on usage trends, among other things, and evolve its subscription-based housing service into a subscription service that includes mobility.
◼︎About the Demonstration Experiment
Starting on Thursday, April 1st, 2021, KabuK Style and the JR West Japan Group will begin their second Demonstration Experiment "JR West Japan x Residences and Workcation Subscription".
This Demonstration Experiment is the second round of the "JR West Japan x Residences Subscription" Demonstration Experiment, which began recruitment in July 2020 and was carried out for three months from September to November.
In the first Demonstration Experiment, we provided discounted tickets for three routes: 1. Osaka ⇄ Hiroshima (two round trips per month: 20,000 yen), 2. Fukuoka ⇄ Hiroshima (two round trips per month: 20,000 yen), and 3. Osaka ⇄ Wakayama/Shirahama (two round trips per month: 10,000 yen). We proposed a new lifestyle of workcation and multiple residence options. After the experiment, we confirmed that we could create new demand by verifying it from various angles.
In the second Demonstration Experiment, we significantly expanded the scale and targeted all HafH members (excluding trial HafH and temporary HafH members) rather than a limited number of people chosen by lottery. In addition, we were able to implement it over a wide range of areas, including Kanazawa, Fukui, Okayama, and Shimonoseki, as new target routes, making it possible to implement it in the Hokuriku region, the San'in-San'yo and Nanki regions.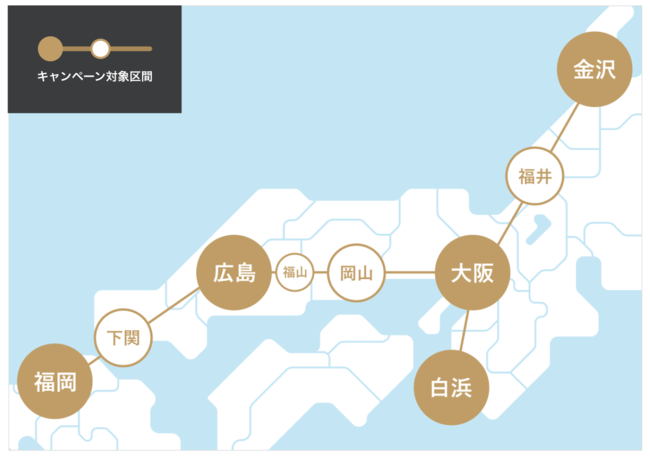 We will continue to collect data through this demonstration experiment to optimize transportation costs, promote future MaaS development, and contribute to digital transformation (DX) in the travel and real estate industries.
◼︎Results of the 1st Demonstration Experiment
The first demonstration experiment, which received a lot of attention, yielded the following results:
Due to more applications than expected for the initial recruitment, the recruitment quota was expanded to about twice the original size.
While the average HafH usage for regular stays is around 2 nights per month, participants in the demonstration experiment stayed for 5 nights or more, indicating a trend towards longer stays.
A certain number of participants who were not using JR West as part of their daily routine were found, indicating the potential for new needs and new user acquisition.
Participants who used the service because of the spread of telework during the COVID-19 pandemic or to search for trial relocation destinations were found.
It was confirmed that there is a need for family use among participants who have families, not just among single participants.
◼︎Second demonstration experiment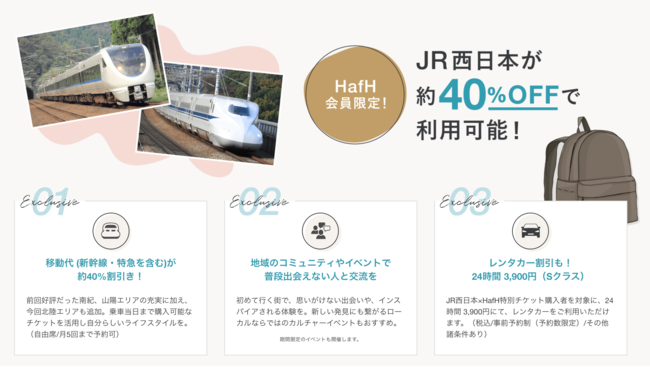 Application period: March 17, 2021 (Wed) – June 13, 2021 (Sun) 23:59 (scheduled)
Target audience: HafH members (excluding trial HafH and HafH rest members)
Implementation details: Provide a "member-only WEB discount ticket" that offers approximately a 40% discount on JR West's 16 sections, and accumulate and verify data on recruitment status and usage trends. ※ We also plan to offer rental car discounts (24 hours for ¥3,900) that can be used at major stations and local events during the implementation period.
Target sections: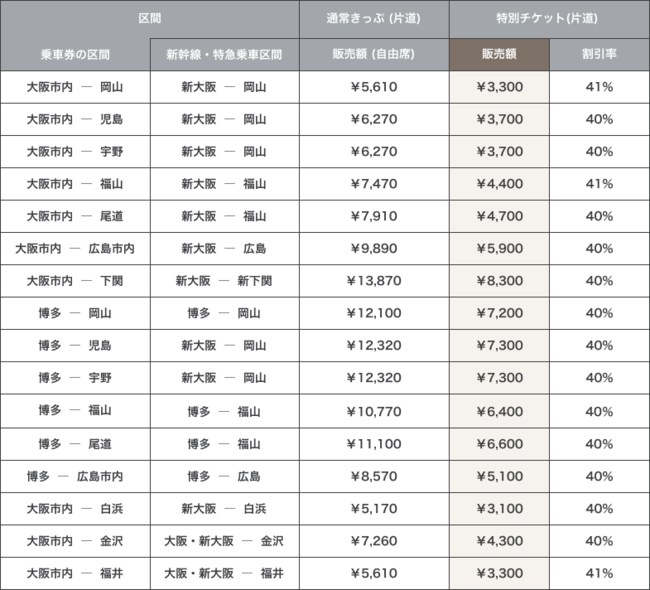 The discount rate is compared to the total cost of the express and ride tickets for one adult in a regular car, for one-way use, with a normal ticket.
Handling of stops along the way: If you get off at a station along the way, the remaining portion of the ticket will become invalid.
The discount rate will be rounded down to the nearest whole number.
To apply for this pilot program, please use the following URL: https://bit.ly/3epx7eo
For more information about this pilot program, please see the joint press release here: https://www.westjr.co.jp/press/article/2021/03/page_17521.html
In this pilot program, we continue to propose new lifestyles such as "workation" and multiple dwelling places. We hope that by changing the way you live through workation and multiple dwelling places, you will experience new encounters and learning opportunities.
<What is Workation?> "Workation" is a new term that combines "work" and "vacation". In modern times where you can work regardless of location, workation is a way of working that reduces commuting and workplace stress, increases daily satisfaction, and promotes work-life balance by working in your favorite place.
◼︎Comment from JR West Japan Innovations
The JR West Group is working on proposing a diverse lifestyle called "NEW WAY of RAILWAY" that combines railways and new services in response to the social changes that have occurred during the COVID-19 pandemic. Following the positive response from the previous demonstration experiment with KabuK Style, we will be conducting the second demonstration experiment, "JR West Japan x Living and Vacation Subscriptions," which expands the area and enhances the service content. By combining the railway network of the JR West Japan Group and the platform of HafH by KabuK Style, we will propose a new lifestyle where everyone can "travel, work, and stay in their favorite places." We will continue to work on regional revitalization in various areas of Western Japan and create towns and areas along the railway lines that people want to visit again and again.
◼︎Comment from KabuK Style CEO Kenji Sunada
Our mission is to create infrastructure to realize a society that can accept diverse values as they are, and our subscription-based coliving service, HafH, which we provide, has expanded to 423 facilities in 36 countries and regions since its launch in April 2019.
HafH defines "living" as living in the infrastructure of HafH, which cannot separate "living places," "working places," and "traveling places" as one integral entity. In order to enable living in multiple locations, it is essential to make travel more accessible, and we need to address the reduction and stabilization of travel costs.
In this second demonstration experiment, we are approaching the issue of reducing travel costs as much as possible without our HafH members having to pay additional monthly fees. After the demonstration experiment, we will need to overcome many obstacles such as system development to make it a permanent service. We hope that many members will participate in this demonstration experiment to provide further feedback and data verification, and we look forward to the further expansion of the world of HafH in 2021.
◼︎Countries and regions where HafH facilities were available as of the end of February 2021 are as follows
Japan, India, Indonesia, South Korea, Cambodia, Singapore, Thailand, Taiwan, the Philippines, Brunei, Vietnam, Hong Kong, Malaysia, Myanmar, Maldives, Laos, Australia, New Zealand, the United States, Ecuador, Guatemala, Mexico, Peru, the United Kingdom, Italy, Estonia, Greece, Georgia, Spain, Germany, Portugal, Malta, United Arab Emirates, Kenya, Tanzania, and Morocco.