We will promote various business collaborations such as collaboration on personal information protection and authentication function platform and visualization of performance using the brainwave device "b-tone™".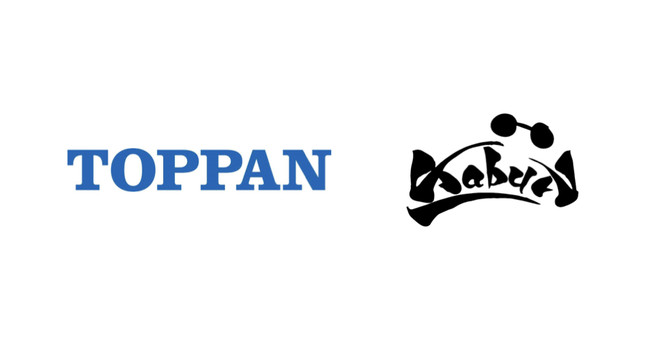 KabuK Style Inc. (Headquarters: Nagasaki City, Nagasaki Prefecture, President and CEO: Kenji Sunada, Ryo Osera, hereinafter referred to as "KabuK Style") and Toppan Printing Co., Ltd. (Headquarters: Bunkyo-ku, Tokyo, President and Representative Director: Shunji Maruo, hereinafter referred to as "Toppan Printing") entered into a capital and business alliance (hereinafter referred to as "the Alliance") in April 2021.
"HafH," offered by KabuK Style, is a service that allows you to stay at accommodations all over the world for a monthly fixed fee. As of the end of May 2021, it is possible to use 809 locations (hotels, inns, guesthouses, etc.) in 515 cities in 36 countries and regions at a fixed price. By standardizing accommodations such as hotels, it proposes new lifestyles and work styles such as "workations" and living in multiple locations.
In addition, Toppan Printing offers a common foundation platform for personal information protection and authentication functions in IT services essential for promoting work-style reforms, called "My Anchor®" (*1), and a brain wave device called "b-tone™" (*2) that visualizes one's concentration state.
Through this partnership, KabuK Style's services and Toppan Printing's secure area technologies and know-how, including "My Anchor®," will be combined to support work-style reforms such as workation support. The two companies aim to maximize business synergy through various joint ventures, such as measuring the effectiveness of workations using "b-tone™".
◼︎The background of the collaboration
The background of the collaboration is that in recent years, the rapid spread of remote work due to the impact of the COVID-19 pandemic has led to an increasing trend towards multi-location residences and workplaces, and the realization of diverse work-life balance has become an important issue.
In this context, the concept of "workation," which involves working while traveling or taking a vacation, has been attracting attention, and IT literacy and the management and protection of personal information have become increasingly important for achieving new workstyles.
KabuK Style has been proposing and realizing a lifestyle and workstyle that allows people to work without being tied to a specific location, focusing on its core service of a subscription-based accommodation service that enables stays at over 800 locations worldwide through "HafH," as well as operating accommodations at six locations throughout Japan.
On the other hand, as part of its efforts to promote diverse workstyle reforms, Toppan Printing provides IT services that offer personal information protection and authentication functions such as "My Anchor®" and a brainwave device that visualizes concentration levels called "b-tone™."
Through this collaboration, KabuK Style will combine the secure area technology and know-how provided by Toppan Printing with "HafH" to support workstyle reform through workation support and other means, and aim to consolidate various subscription-based businesses beyond accommodation and promote business expansion.
◼︎Future business expansion
Collaboration with the common information infrastructure platform "My Anchor®": By integrating HafH's member authentication (using face recognition or My Number card) and centralized storage and management of personal information through "My Anchor®", we aim to provide a safe and secure environment for HafH members to use various services, while enabling members to manage their own information.

Measuring the effectiveness of "Workation" using the brainwave device "b-tone™": Although the attention on Workation is increasing, there are still challenges in introducing it to companies. To address this issue, we have started an experiment using the brainwave device "b-tone™", a service provided by Toppan Printing, to measure the effectiveness of Workation at HafH's accommodation facilities. We aim to gather evidence of the benefits of Workation and support its introduction.

Expansion of Brand Promotion Business We will set up a platform for promoting products in partnership with Toppan Printing at "HafH" accommodations. This will not only promote media coverage of the accommodations but also provide users with valuable product experiences by placing manufacturer products that are highly compatible with each facility.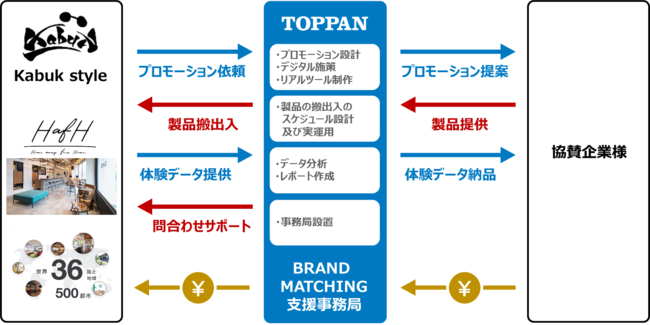 ◼︎Future Goals
KabuK Style and Toppan Printing aim to provide value through the aggregation of subscription businesses that support new lifestyles and work styles beyond accommodation, as well as accelerating new ways of working under the new normal and supporting workstyle reforms such as "workations" by integrating the expertise and know-how of both companies.
Note 1: My Anchor® "My Anchor®" is a platform that enables personal information to be integrated and managed under the disclosure or non-disclosure intentions of individuals. Details: https://www.toppan.co.jp/securities/event/scosaka2020/assets/pdf/myanchor.pdf
Note 2: b-tone™ "b-tone™" is an ultra-lightweight and small earphone-type brainwave device developed by Toppan Printing and SOSO H&C. Details: https://www.toppan.co.jp/news/2021/02/newsrelease210202.html
The product and service names mentioned in this press release are trademarks or registered trademarks of their respective companies.
The content described in this press release is current as of the date of announcement and may be subject to change without notice.
This press release is a joint press release and may be distributed redundantly by each company.
◼︎Countries and regions where HafH is available as of the end of May 2021 Japan, India, Indonesia, South Korea, Cambodia, Singapore, Thailand, Taiwan, Philippines, Brunei, Vietnam, Hong Kong, Malaysia, Myanmar, Maldives, Laos, Australia, New Zealand, United States, Ecuador, Guatemala, Mexico, Peru, United Kingdom, Italy, Estonia, Greece, Georgia, Spain, Germany, Portugal, Malta, United Arab Emirates, Kenya, Tanzania, and Morocco.