A new plan for 9,800 yen per month has been introduced! For new registrations only, the new plan is discounted by 6,820 yen. In addition, an online briefing session will be held on August 2nd at noon to explain the full details of the renewal and the invitation campaign starting on August 1st.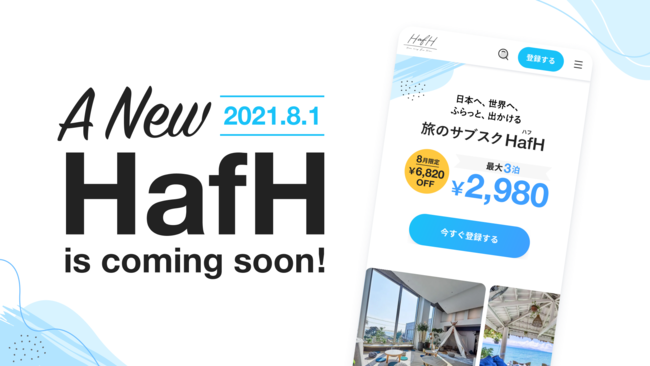 KabuK Style Inc. (Representative Directors: Kenji Sunada, Ryo Osera) has been offering the subscription-based accommodation service "HafH (Home away from Home)" since April 2019. We will be conducting a major renewal of HafH as follows from August 1, 2021 (Sun).
3 major renewals of the travel subscription service "HafH"
1.【Changes to the pricing plan】New pricing plan starts. New subscribers can get a discount of 6,820 yen on the new plan.
2.【Changes to the payment method】Payment timing will be simplified and made easier to understand.
3.【Changes to HafH Coins】The "HafH Coins" required for booking rooms will be renewed. Invitational campaigns will also be upgraded and will start.
In commemoration of the renewal on August 1 (Sun), we will designate August 2 (Mon) as "HafH Day" and hold an online explanatory session "HafH LIVE" in the form of a webinar from noon. Please apply for the explanatory session and reception from the following website.
Application for online explanatory session "HafH LIVE" https://hafhlive82.peatix.com
HafH is a service that allows you to stay at accommodation facilities around the world for a fixed monthly fee. As of the end of June 2021, you can use 839 locations (hotels, ryokans, guesthouses, etc.) in 521 cities in 36 countries and regions for a fixed fee.
On August 1st, HafH will be relaunched as an even more affordable and easy-to-use "travel subscription".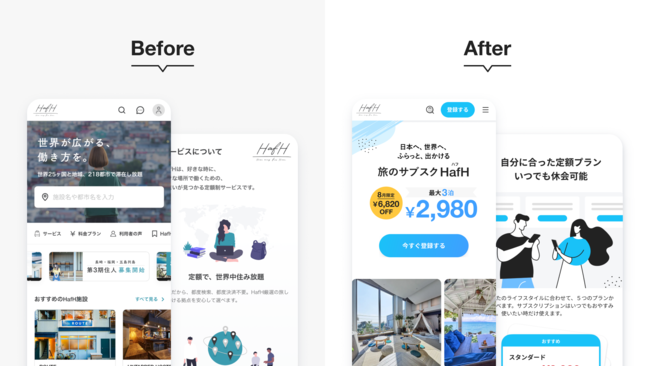 We are updating the concept of "travel" to be more casual with the aim of making it more accessible. With our new brand message "Travel around Japan and the world spontaneously with our travel subscription", we will be changing the pricing plan and HafH coin system.
Furthermore, we will be opening an "online community" to support the community aspect of HafH, including communication and connections between members that occur through HafH's accommodations and social media. We will also be strengthening the "HafH concierge" to support travel.
With the update, the terms of use will also be revised. Additionally, the service will be temporarily suspended from midnight to 6 a.m. on August 1, 2021, and new member registrations will be accepted starting at 6 a.m. on the same day. https://www.hafh.com/terms-of-service-v2
◼︎Three major updates for the HafH travel subscription service
Change in pricing plan: A new pricing plan will be introduced, and new members can sign up for the new plan with a discount of 6,820 yen.
Details of the changes:
A new plan called "Standard" will be introduced, which allows for up to 3 nights' stay per month for a monthly fee of 9,800 yen.
New members can sign up for the "Standard" plan at a discounted rate of 2,980 yen (6,820 yen off) from August 1.
Some plan names will be changed, and prices for some plans will be adjusted.
Revised pricing plans:
"Trial HafH" (3,000 yen/month, up to 1 night) → "Light" (2,980 yen/month, up to 1 night, with 50 coins)
New "Standard" (9,800 yen/month, up to 3 nights, with 200 coins)
"Occasional HafH" (32,000 yen/month, up to 10 nights, with 300 coins) → "Premium" (30,800 yen/month, up to 10 nights, with 750 coins)
"Always HafH" (82,000 yen/month, no limit, with 500 coins) → "Premium Plus" (82,000 yen/month, no limit, with 2,000 coins)
Establishment of an online community: To support the community aspect of HafH, an online community will be established for members to communicate and connect.
Strengthening of HafH concierge service: The HafH concierge service will be enhanced to support travel for members.
Note: The terms of service will also be revised, and the service will be suspended from 0:00 to 6:00 on August 1 for the update. New member registration will start from 6:00 on August 1.
[Change in Payment Method] Payment timing will become simpler and easier to understand.
[Details of Changes]
From August 1st, the day you register will become the payment date. Existing members who registered before 11:59 pm on July 31st will have their payment date on the 1st of each month.
With this change, it will now be possible to cancel or change plans freely after using HafH for the first month, whereas previously a minimum usage period of two months after registration was required. By eliminating the minimum usage period, customers can now try HafH for as little as one month.
For existing HafH members who wish to change to the new plan, please refer to the following link for details on changes to payment method and new pricing plans: https://www.hafh.com/topics/11287
Changes to HafH Coins – The coins required for room reservations will change.
HafH offers a "flat-rate" service for all facilities, and to achieve this, the service provides accommodations for expensive rooms without additional charges, using "HafH Coins" on its booking website.
Change Details:
In the new plan, the number of attached coins per plan that are provided monthly will increase.
You can convert unused nights into coins within the same month. Unused nights will still be automatically granted as coins during the next month's update.
The VIP membership system has been established. VIP members will receive an increased number of plan-attached coins and a higher conversion rate per night.
HafH Coins will be required for booking all facilities. In conjunction with this change, the number of coins you currently own will be automatically increased on August 1st, based on the number you possess.
Furthermore, we will be launching an invite coin campaign from August 1st. Further details will be announced at a later date.
With this renewal, August is a great opportunity to start HafH at a reasonable price.
For more information on HafH Coins changes, please visit the following link: https://www.hafh.com/topics/11293
◼︎Comment from KabuK Style CEO Kenji Sunada HafH, which celebrated its third year since its launch in April 2019, has refreshed its brand message and overall website design, revised its plans, and implemented new features to make travel even more accessible and enjoyable for our users.
At HafH, we value the idea that "where the wind and soil meet, new culture is born," and have adopted an earthy color scheme that evokes nature to offer a service that enables travelers to find their home away from home. By refreshing our tone to a brighter one, we hope to blow away the feeling of stagnation in the world and provide our users with a sense of comfort while they travel. We will continue to cherish HafH's belief in diversity and tolerance for various values, and provide even more convenient and affordable "travel subscriptions" in the future.
While the impact of the COVID-19 pandemic has greatly reduced travel, we have started to see signs of a way out of the dark tunnel. We believe that the day when we can enjoy travel again and add color to our lives will come back as soon as possible, and we will continue to strive towards that goal.
◼︎As of the end of June 2021, the countries and regions where HafH locations are available
Japan, India, Indonesia, South Korea, Cambodia, Singapore, Thailand, Taiwan, Philippines, Brunei, Vietnam, Hong Kong, Malaysia, Myanmar, Maldives, Laos, Australia, New Zealand, the United States, Ecuador, Guatemala, Mexico, Peru, the United Kingdom, Italy, Estonia, Greece, Georgia, Spain, Germany, Portugal, Malta, United Arab Emirates, Kenya, Tanzania, and Morocco.