The second experiment in preparation of a full-scale service, customers may choose from the 143 domestic routes serviced by Japan Airlines! Round-trip, one-way or multi-city trips are available, and participants can use a Travel Gatcha feature to truly randomize their trip.
KabuK Style, Inc. (Headquarters: Nagasaki City, CEO: Kenji Sunada, "KabuK Style") and Japan Airlines, Co., Ltd.,(Headquarters: Shingawa, Tokyo, CEO: Yuji Akasaka, "JAL") have collaborated in order to conduct the second round of trials for their "Aviation Subscription Service", following the first rounds which took place last year. Applications will open for participants from June 22 (Wed).
Details
3 new plans exclusive to this trial will be available on HafH (pricing at ¥28,800, ¥39,800, or ¥82,000 monthly. *Approx. $213, $295, $606, exchange rate valid as of 17th June, 2022 )
Users can choose from all 143 domestic routes offered by JAL (some exclusions apply). (*1)
A more flexible way to travel can be enjoyed by HafH users; one-way and multi-city reservations are now available as well as round trips.
Discover new destinations with the Gatcha Travel feature.
A special event will be held only for the participants.
With the ambition of offering a permanent service from next year onward, KabuK Style and JAL hope to use this trial to deepen the discussions on integrating data and services surrounding MaaS (Mobility as a Service), in order to provide a truly seamless travel and transportation experience.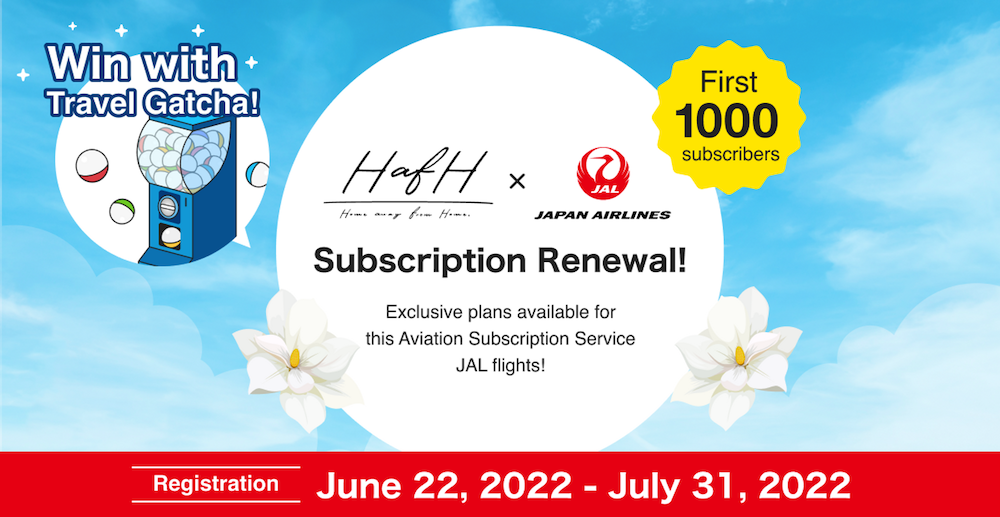 ◼︎Overview of the second "Aviation Subscription Service" Trial
This is the second round of trials following the first series (*2) which were conducted between August and November, 2021, limited to 500 participants. During the first trial, data was collected in order to investigate and understand the needs for the services in order to facilitate new travel demands.
Users registered for KabuK Style's subscription travel service will be able to book the flight service offered by JAL, allowing them to go beyond regular sightseeing or business trips and experience new working styles and lifestyles that have been garnering attention in recent years, such as "workcations" or nomadic lifestyles. Through these experiences users will have the chance to experience the value of the "new normal", of escaping the crowds and working or living wherever they like.
The findings of the first trial showed how effective an Airline Subscription Service can be. The results showed that the majority of participants were younger, with over half using the plan to go on workcations. The destinations traveled to also varied greatly. (*4)
On the other hand, KabuK Style and JAL have agreed on a domestic travel agency agreement which accommodates a more flexible style of travel. After designing the service exclusively for HafH members, the following points have been updated for the second experiment.
Expanded from 10 available routes to and from Haneda Airport, to all 143 domestic JAL routes (some exclusions apply)(*1).
Participants can now reserve one-way or multi-trip options as well as round trips.
Participant limit has been increased from 500 to 1000.
These are the second round of trials being held by KabuK Style and JAL as part of their preparations in the development of a permanent Airline Subscription Service, which is currently in discussions.
(*1)As of June 16, 2022
(*2) Joint release on July 27, 2022.
Refer to 「Entry open August 1 for KabuK Style and JAL's aviation subscriptions service trial run」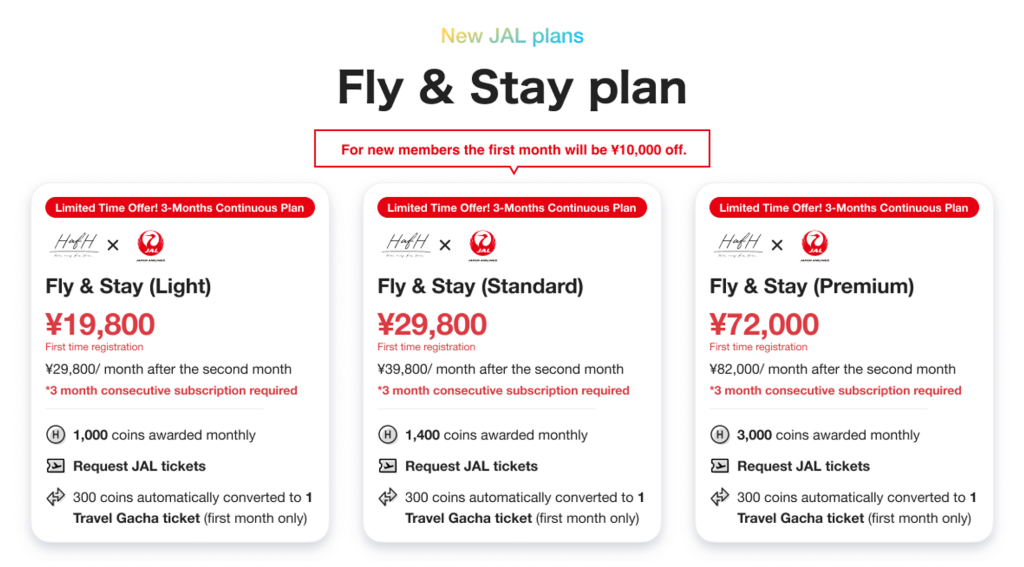 (*3) KabuK Style's "Travel Subscription Service". Members use "HafH Coins" granted through the service to book accommodations. The service offers a new style of traveling beyond regular sightseeing or business travel, such as trips for working, living, or a change of pace. For a fixed monthly cost, users can choose from over 1,000 properties in Japan (as of end of March, 2022).
(*4) March 17, 2022 Press release: "HafH x JAL 'Aviation Subscription Service' Trial Report: 5 Effects of an Aviation Subscription.
Reference: https://kabuk.com/en/20220317-01/
◼︎Overview
HafH members will be able to participate in this trial by signing up to one of the 3 new subscription options, "Light" (¥28,800/mth), "Standard" (¥39,800/mth), or "Premium" (¥82,000/mth) offered exclusively with this limited-time plan. All 3 exclusive plans require a 3 month continuous subscription.
During the trial, participants can use the HafH Coins (*5) granted in their plan to reserve flights and accommodation. Users must reserve a HafH accommodation in order to apply for a flight reservation, using 350~600 coins per route.
(*5) HafH Coins are awarded with each plan, and used to make reservations.
URL: https://www.hafh.com/coin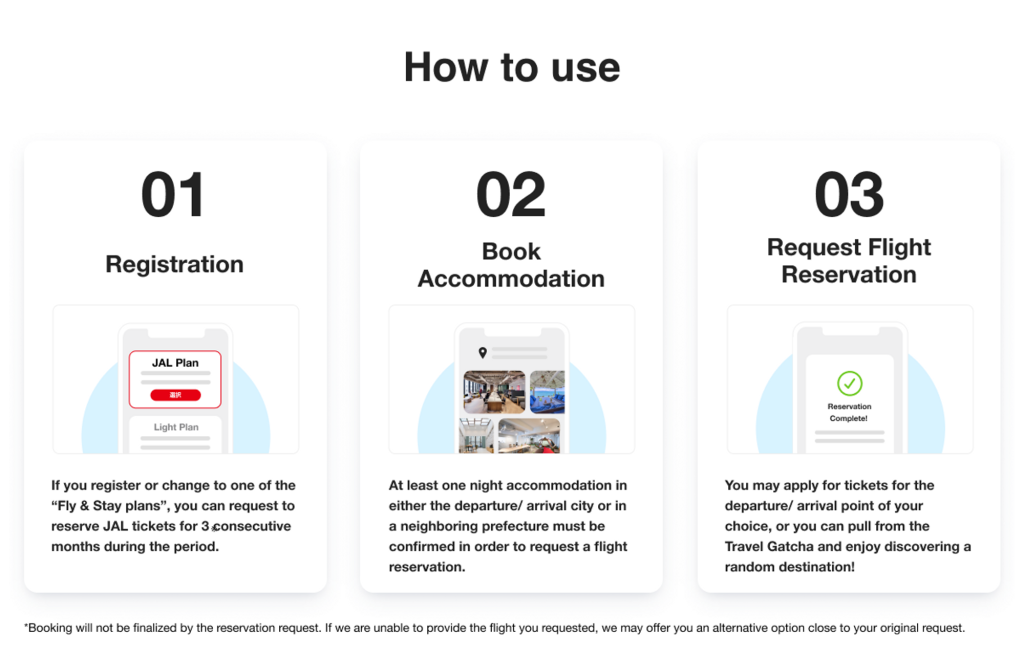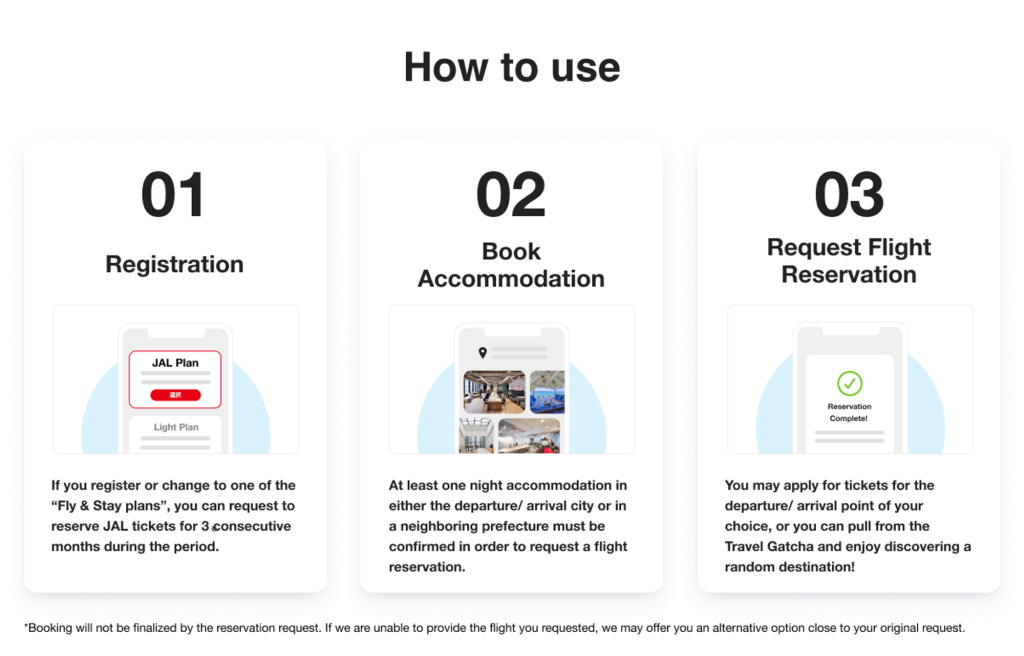 Website: https://www.hafh.com/lp/jal/202206
Who is eligible: HafH members
Capacity: first 1000 people
Plan details: "Light" (¥28,800/mth), "Standard" (¥39,800/mth), or "Premium" (¥82,000/mth)
Newly registered members will receive ¥10,000 off the first month of any plan.
All plans require a minimum 3 month continuous subscription.
Period for requesting reservations: Wednesday, June 22 to Thursday, September 22, 12:00.
How to make a reservation request: provided users have booked at least one night at a HafH property for each reservation as outlined above, they may select more than one route option (one-way, return, multi-city).
In order to carry out a reservation request, users must have a confirmed booking for a minimum of one night in either the departure or arrival point, or a neighboring prefecture within 15 days before or after their desired travel date.
Reservation requests can be made until 12:00 of the day before the desired departure date.
A reservation request is not a finalized reservation. Once the request has been made, seat availability will be confirmed.
Period for traveling (departure): Friday, July 1 to Friday, September 30.
Available routes: All 143 JAL routes (some exclusions apply).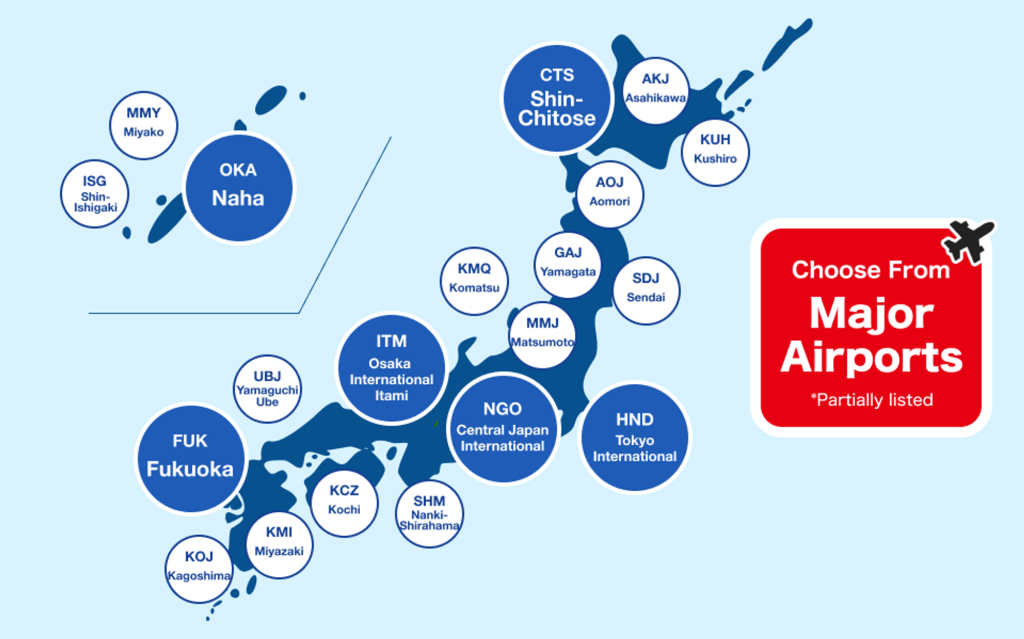 ◼︎Spin the Travel Gatcha for a random destination!
In their first subscription month, trial participants will receive a ticket for HafH's Travel Gatcha feature. With the ticket, or 300 HafH coins after the first month, users can draw a one-way flight ticket from the in-app Gatcha feature, allowing them to travel with JAL for fewer coins than usual.
Moreover, an option for users who spend 1,200 HafH Coins to draw 5 one-way tickets is also underway. This option gives trial participants a unique chance to travel to four different locations, returning to the airport they departed from.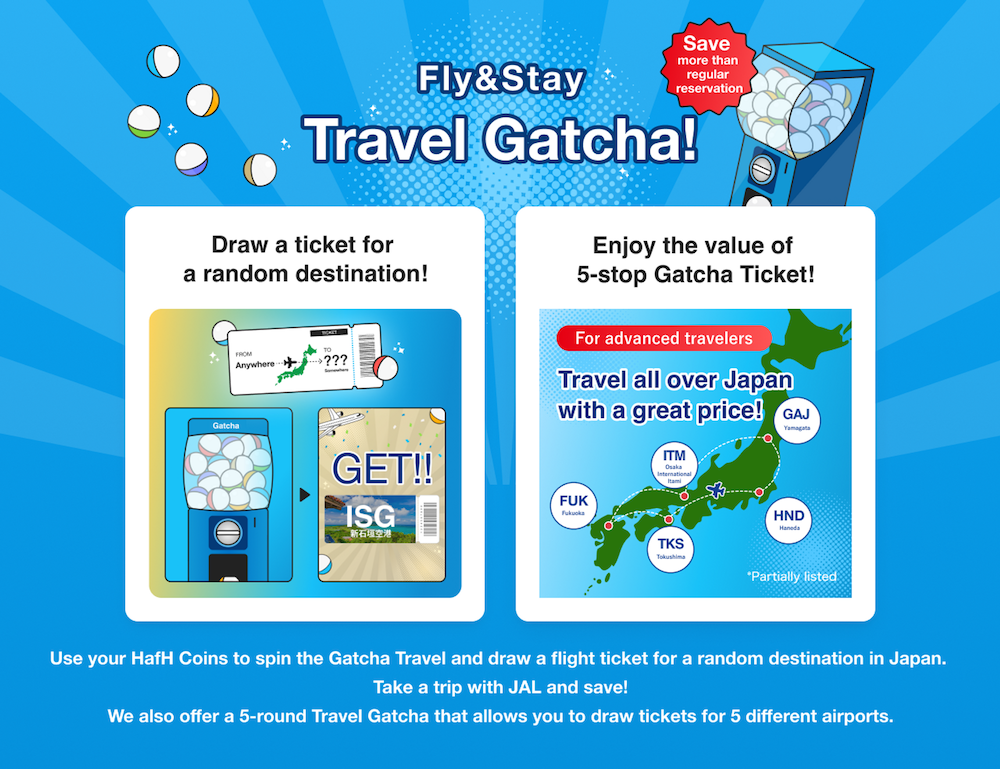 ◼︎"Moving forward to realize a permanent plan from next year onward" – a message from CEO, KJ Sunada.
As we have already announced with the release of our 3 main initiatives for 2022, as a company, we at KabuK Style are taking on the challenge of evolving HafH's travel subscription into a fixed-priced MaaS service with transportation included. This trial is a part of that strategy.
See here for more information:
"HafH's Plans for 2022: 3 projects including overseas expansion and aviation subscription! (2022.02.29)
We concluded a domestic passenger handling agency agreement with JAL in order to conduct this trial, and we hope to deepen discussions surrounding data and system integration moving forward in order to realize a permanent Airline Subscription Service from next year onwards. Furthermore, as the Covid-19 situation and immigration regulations begin to settle and overseas travel resumes, we are also considering collaboration with overseas airlines in order to establish an Airline Subscription Service overseas too.
As we focus on airline subscription services expansion, we are also strengthening our hiring efforts in order to find future team members who are passionate about travel innovation. We plan on holding a company information session aimed towards experienced professionals in the travel industry on June, 28th and July, 14th.
Find more information here:
Hiring website:
https://kabukstyle.notion.site/Alliance-project-manager-45cd70539b454f81b87f1a413a10d775*Website in Japanese only
Even in the midst of unstable peace in the world, KabuK Style still believes in the importance of learning about the world and enriching lives through travel in order to make their mission of creating a society where "diverse values are accepted for what they are" a reality. With this belief in mind, we will continue to challenge ourselves and strive to expand our services.