To promote well-being, the company has implemented the appointment of executive officers and spun off its hotel development and operation business into a separate subsidiary. In addition, another subsidiary has been established to take over organizational functions that are closely related to service users.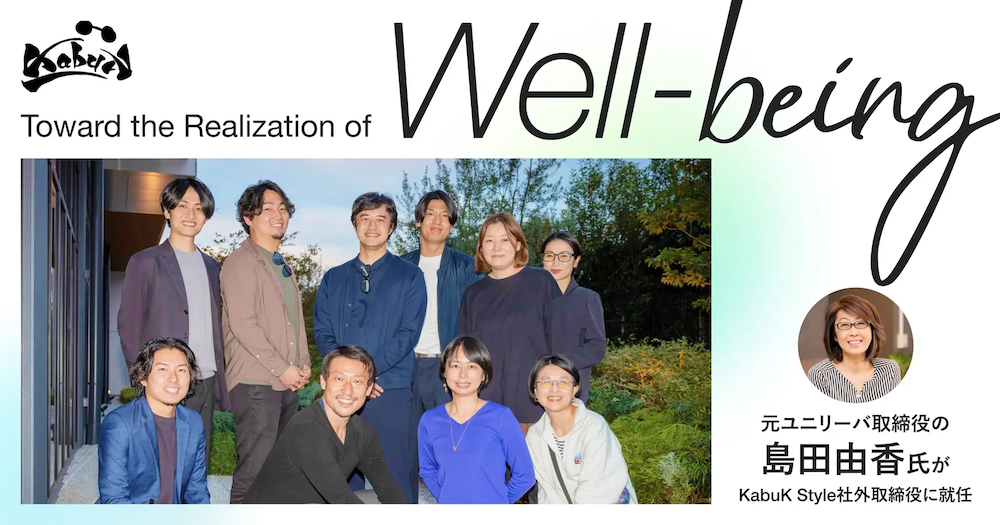 KabuK Style, a Travel Fintech company that operates the travel subscription service "HafH," has appointed Yuka Shimada, former director of Unilever Japan Holdings, as an external director to promote well-being and realize a society that tolerates diverse values. In addition, KabuK Style has reorganized into two subsidiaries to realize diverse ways of working according to business domains and occupations:
HafH Co-living Operations Inc. (HafHCo) Headquartered in Kyoto City, Kyoto Prefecture Representative Director: Genya Taguchi Business: Inherits KabuK Style's direct management co-living facility development and operation business
HafH User Success & Communities Inc. (HafH USC) Headquartered in Fukuoka City, Fukuoka Prefecture Representative Director: Genya Taguchi Business: Inherits KabuK Style's customer success department, partner success department, and travel operation department.
KabuK Style, a company with a mission to create infrastructure for a society that tolerates diverse values, has implemented mechanisms to enable diverse work styles based on the values and roles of its members, called "crew," who share the company's mission. The company aims to provide an environment in which all crew members can achieve well-being, and the appointment of Yuka Shimada as an external director will accelerate this movement.
In addition, as KabuK Style focuses on its Travel Fintech business domain and operates an organization centered around professional and unique product development, it has transferred its direct hotel development and operation business to HafHCo, and its service department, which focuses on user success, to HafH USC, in order to operate a business and organization that provides a well-being working environment for all crew members. These two companies will operate as strategic subsidiaries, with missions, visions, and values that differ from those of KabuK Style but remain aligned with its strategies.
Furthermore, KabuK Style has reorganized its business units for travelers, accommodations, and transportation providers, with each unit responsible for overseeing its respective product. The company will continue to build an organization that creates new products in collaboration with its users.
◼︎About Yuko Shimada
Name: Yuko Shimada
Profile: Co-founder and CEO of YeeY Inc. and Chief Well-being Officer (CWO) of Asteria Corporation.
After graduating from Keio University, Shimada worked at Pasona Inc. before obtaining a Master's degree in Organizational Psychology from Columbia University in the United States. She worked as a human resources manager at General Electric (GE) in Japan before joining Unilever Japan in 2008. In 2014, she became the Executive Director of the Human Resources and General Affairs Department. She focused on motivating employees and implemented unique human resources policies such as "WAA," which led Unilever Japan to win the Forbes Women Award for three consecutive years. In 2017, she co-founded YeeY Co., Ltd. and became its CEO. She has organized conferences featuring world-renowned well-being researchers such as Dr. Martin Seligman, Dr. Ed Diener, and Dr. Tal Ben-Shahar to contribute to improving well-being literacy in Japanese companies and society. Through supporting corporate management and human resources consulting and assisting in building organizational culture, she is working to realize well-being management in Japanese companies. She is passionate about revitalizing local communities and spends nearly half of the year on workation. She develops content to support organizational consulting and workation in local governments and creates systems to improve the well-being of local residents. She has been invited as an expert to the Cabinet Office, the Ministry of Internal Affairs and Communications, the Forestry Agency, the Japan Tourism Agency, and other local governments, including the Cabinet Office Administrative Reform Promotion Council. She won the Best Individual Award in the Corporate Human Resources Department category of the "HR Award 2016" for Japan's human resources department. She also received the "HAPPY WOMAN AWARD 2019 for SDGs" on International Women's Day. She is the leader of Team WAA!, the representative/chief coaching consultant of Delivering Happiness Japan, the representative of the Japan Positive Psychology Institute, the CWO (Chief Well-being Officer) of Astellia Co., Ltd., the representative director of the Dialogue Association, and the representative of NOTONO LLC.
◼︎Comment from Yuka Shimada My purpose in life is to create a society where everyone can live their lives true to themselves with a smile and in abundance. "Well-being" is clearly a keyword for future management, work, and life, and my definition of it is whether or not I feel good and in good shape. The effect of being in a state of well-being in our work and workplace, where we spend a lot of our time each day, has already been demonstrated in various research studies. Among them, the way we work has a significant impact on our well-being. Within KabuK Style, which has a mission to create an infrastructure for a society that allows for diverse values, I will work towards realizing that purpose.
◼︎About HafHCo HafHCo has a mission of "bringing freedom to places of living" and aims to create a future society where individuals can choose a way of life that accommodates their diverse values without borders between "living" and "traveling." HafHCo develops Co-living facilities with features such as designs and facilities suitable for long-term stays as well as short-term accommodations in various locations in Japan and overseas. These facilities have both a café community space where residents/users can connect and personal space to ensure privacy. A café/lounge is also provided to accommodate the modern lifestyle/workstyle of working while traveling. HafHCo forms communities involving residents and the local area, creating an environment where residents can live with peace of mind.
◼︎About HafH USC HafH USC has a mission of "creating a world full of promoters" and aims to reduce the communication gap between service providers and users as much as possible based on voice and data. HafH USC creates more productive, effective, strategic communication and operations and builds emotionally satisfying communities with improved quality to increase promoters and achieve new experiential value in communication with users and partners. URL: https://hafhusc.com
◼︎KabuK Style CEO, Kenji Sunada's Comment
I am pleased that the KabuK Style Group has steadily expanded its business since its launch in 2019 and has grown to include many colleagues. With the reorganization of the group, I believe that all crew members can now aim for a well-being state more easily.
As part of HafH's 2022 plan, "HafH 2022: Three Initiatives," KabuK Style is executing the following initiatives and considers them to be essential measures for creating an organization that focuses on innovation as a travel fintech company.
HafH 2022: Three Initiatives: (1) Evolve the transportation subscription service into a flat-rate MaaS service that includes HafH moves. (2) Expand overseas partnerships and acquire overseas customers. (3) Fully support the DX of accommodation facilities.
<Details are available here> Travel subscription service "HafH" announces "HafH 2022: Three Initiatives" such as strengthening airline subscriptions and expanding overseas (Press Release on March 29, 2022) https://prtimes.jp/main/html/rd/p/000000058.000039388.html However, well-being can only be achieved through constant improvement and a strong will of all crew members, and I do not believe that this initiative alone will achieve it. The KabuK Style Group will continue to commit to promoting well-being to achieve its vision as a travel fintech company that innovates in the global travel market from Japan.
◼︎Comment from HafH USC CEO & HafHCo CEO, Genya Taguchi
HafHCo is a company that operates Co-living facilities under the [HafH] brand, which not only provides short-term accommodation but also designs and equips facilities for long-term living, with a mission of "bringing freedom to living spaces" and realizing a world without borders between "living" and "traveling" in various parts of Japan and overseas. At the same time, we plan to collaborate with local governments, local banks, local companies and shopping districts, and local schools to promote regional revitalization and development, such as community activities, community support, and business startup support in each region, as we are currently doing in Nagasaki. To this end, we will develop facilities that serve as new community management activity bases for local talent, and that promote new projects born from user interaction through HafH.
HafH USC is a company that embodies KabuK Style's corporate philosophy through user success and raises the experiential value of KabuK Style's service "HafH" by creating new added value for users with a mission of "overflowing the world with promoters." We will continue to work to create a new society where everyone can actively participate and realize their potential by providing support and opportunities for personal growth to users through HafH.