KabuK Style has launched the Chinese translation version of "HafH" in Taiwan and added approximately 70 new hotels, strengthening the "HafH" travel subscription service in Taiwan.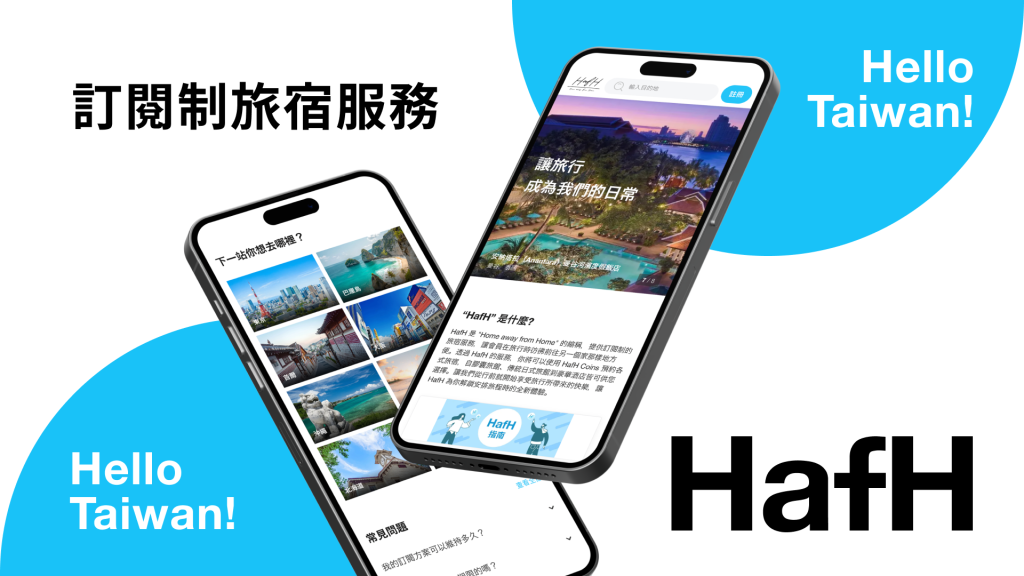 KabuK Style, a Travel Fintech company based in Nagasaki, Japan, operating the travel subscription service "HafH," which allows stays at accommodations worldwide for a fixed monthly fee, has entered into a partnership with SANPU TRAVEL GROUP, headquartered in Taipei, Taiwan, led by President Hsieh, Hsien-Chih. With this partnership, KabuK Style has officially launched its operations in Taiwan. The business partnership announcement event was held in Taiwan on October 17, 2023 (Tuesday). The event was attended by approximately 80 people, including major Taiwanese media outlets such as the "Economic Daily News" and "Business Next.
In conjunction with this partnership, we have initiated the display of the Chinese version of "HafH" in Taiwan. We have also added approximately 70 new hotels in Taiwan, bringing the total number of available accommodations to over 150. These efforts signify an accelerated expansion of the "HafH" travel subscription service within Taiwan.
Furthermore, to commemorate this partnership, we are conducting the "GO!GO! Taiwan Campaign" in Japan, providing further impetus to travel from Japan to Taiwan. With this partnership, we aim to not only expand the accommodation options for travelers from Japan to Taiwan, which already boasts over 70,000 members, but also to facilitate an enjoyable hotel network for both existing and future members looking to explore Taiwan domestically and internationally.
Background of Business Partnership
Since its launch just four years ago, the travel subscription service "HafH," operated by KabuK Style, has experienced remarkable growth. As of the end of September 2023, it has garnered over 76,000 members, offering access to more than 2,000 accommodations in over 30 countries worldwide.
With the vision of "utilizing the power of technology to redesign travel worldwide into something more accessible," we are actively focusing on global expansion. On the other hand, SANPU TRAVEL GROUP is a well-established company known as a comprehensive travel agency in Taiwan. It conducts various businesses based in Taiwan, including travel, hotels, transportation, dining, investment, trading, real estate, and social welfare.
Through this recent business partnership, we aim to leverage each other's assets and expertise to enhance the pace of facility expansion in Taiwan.
The Anticipated Effects of This Partnership / Kenji Sunada, CEO of KabuK Style
One of our strengths lies in having a wide range of accommodations, including over 1,000 excellent hotels in Japan. With the perspective of introducing Japanese accommodations that we confidently recommend, KabuK Style expanded into South Korea in February of this year, considering it as the country with the highest number of inbound visitors.
While Taiwan's GDP is about half of South Korea's, and it ranks second after South Korea in terms of inbound visitors, recent trends show that the spending in Japan from Taiwan exceeds that of South Korea. As a result, Taiwan can be seen as having even greater potential than South Korea when it comes to capturing inbound demand for Japan.
Since our services are not limited to Japan but have a global reach, we plan to further expand the usage of our services by Taiwanese users who joined with the purpose of traveling in Japan to include other destinations outside Japan. In the medium term, we are committed to creating travel opportunities between Japan, Taiwan, and Korea, including the already established presence in South Korea, to stimulate activity in East Asia.
(※)https://www.mlit.go.jp/kankocho/content/001619990.pdf 
Comment from Hsieh Chang-Cheng, Vice Chairman of SANPU TRAVEL GROUP
SANPU TRAVEL GROUP is a comprehensive travel company in Taiwan specializing in inbound travel business. Since its establishment in 1978, we are now celebrating our 45th year. We have always focused on traditional travel business. We have been operating travel businesses for Japan and Korea markets for many years, and up to today, one out of every six tourists from Japan and Korea has used SANPU TRAVEL GROUP services. In response to post-pandemic travel demand, we have been actively expanding into regional development and Taiwan-Japan cooperation, in addition to travel, dining, hotels, and transportation. Also, considering the industry trends after the pandemic, we have been collaborating with various startups related to the travel ecosystem over the past few years to explore various innovative possibilities. Through collaboration with external partners, we will promote innovation within the organization and further expand into more diverse business areas by addressing services provided to businesses, hotels, and travelers more comprehensively.
Today, I am very pleased to announce the business partnership with KabuK Style. We look forward to utilizing the opportunity for us and KabuK Style, who have the know-how of Japanese travelers visiting Taiwan, to strengthen the markets in Taiwan, Japan, and Korea. Through media coverage, I hope that the new lifestyle concept of HafH will be known to more people in Taiwan. I also hope that the HafH culture of "traveling more casually" will take root in Taiwan, just like in Japan.
Overview of "GO!GO! Taiwan Campaign"
In celebration of the commencement of the business partnership with SANPU TRAVEL GROUP, we have initiated the "GO!GO! Taiwan Campaign" to promote travel from Japan to Taiwan, following the addition of over 70 new accommodation facilities in Taiwan. We have launched a campaign website dedicated to providing exclusive benefits for HafH users, including complimentary room upgrades, free late check-outs, and special gifts during their stay at the newly added hotels. Additionally, popular tour activities like the Sky Lantern Experience are available at a 10% discount for bookings made through HafH. Furthermore, we will feature articles that delve into the attractions of Taiwan, including tourist spots, gourmet experiences, and a curated list of cafes suitable for remote work.
The campaign website:https://lp.hafh.com/campaign/gogo-taiwan/20231017
<SANPU TRAVEL GROUP(三普旅遊集團)Overview>
SANPU TRAVEL GROUP is a unique conglomerate that operates as a "comprehensive travel agency." It vertically integrates various travel services including transportation, accommodation, dining, merchandise, and sightseeing to provide high-quality services. Based in Taiwan, the group engages in a wide range of businesses such as travel, hotels, transportation, dining, investment, commerce, real estate, and social welfare.
■ About HafH
HafH (Home away from Home) is a "Travel Subscription" service that allows guests to stay overnight using "HafH Coins" earned through the service. The service offers a new style of travel, not only for sightseeing and business trips, but also for "living", "working", and "changing one's mind".
As of the end of September 2023, approximately 2,000 accommodations in Japan and abroad are available at fixed rates.
https://www.hafh.com
■ About KabuK Style
Company name: KabuK Style Co.
Representative: Kenji Sunada, CEO and Founder
Establishment: January 8, 2019 (Established February 5, 2018) April 1, 2019 Service launch
Capital: 2,437 million yen (as of March 2023, total amount of capital raised)
Business: Operation of travel subscription "HafH," lodging and rental operations, travel agency
URL: https://kabuk.com